What are the Top GIS Jobs in Canada 2023: Some of the top GIS jobs in Canada with high pay include Geographic Information Systems Project Manager, intelligence officer, and health geographer. Are you interested in GIS jobs in Canada? Stress no more, as all you need to know is explained in this guide.
Geographic information system (GIS) with NOC number 2255 is one of Canada's in-demand and high-paying jobs. Well, not as popular as every other profession, but it is worth every bit of the stress of equipping oneself with all that has to do with this profession if you have the zeal for GIS jobs in Canada. 
Like other sectors and professions, employment opportunities available to those holding a geographic information systems (GIS) technician position vary across Canada, depending on where they are currently employed. 
Find out all you need to know about GIA jobs in Canada, including the required skills, Salary, tips for finding GIS jobs in Canada, and likely questions to which you need answers. 
Employment requirements for GIS jobs in Canada
Typically, this is what the job requires of its employees. 
Secondary school graduation is a prerequisite for admission. 

To become a geomatics technologist, you need to graduate from a college program in cartography, photogrammetry, aerial survey, remote sensing, geographic information system, or geomatics that lasted between two and three years. 

To work as a geomatics technician, you need to finish a college program that lasts between one and two years and focuses on geomatics, cartography, photogrammetry, aerial surveying, remote sensing, or geographic information system. 

To be eligible to use the title "Professional Technologist" in Quebec, one must be a member of the regulatory body that oversees professional technologists. 

To work as a meteorological technician in Canada, you must finish a program that lasts for an entire year and is offered by the Meteorological Service of Canada. 

Additional specialized education is available for meteorological technicians, and some employers may require them to have it to work for them.
What are companies hiring for GIS jobs in Canada?
The top companies hiring now for GIS jobs are:
Asset Market

Urban Systems

Cameco

Canadian Natural

Ana-Data Consulting Inc

Emterra Group

Vaco Lannick

City of Fernie

Region of Waterloo

Interfor Corporation
GIS Jobs in Canada: Salary
The standard hourly rate for a GIS specialist in Canada is $37.13, making the annual Salary average $72,404. The starting salary for an entry-level position is $60,450 per year, while workers with more experience can make up to $80,363 per year.
Salary per region 
British Columbia $76,538

Ontario $72,848
The Top 15 Highest-Paying GIS jobs in Canada 
GIS is a field that is experiencing rapid job growth. There are a few different kinds of GIS jobs. Still, they all require knowledge and experience with the hardware and software solutions for geographic information systems to map and analyze. We have compiled a list of some GIS careers offering the highest salaries. 
Geographic Information Systems Project Manager 
Project managers for geographic information systems are in charge of leading groups of people who collect and map geographic information. This is an essential and integral part of their job. For this job, you need to know a lot about the technical side of geographic information systems and have good leadership and management skills.
One or more businesses can hire project managers for geographic information systems to create and use mapping data to evaluate the environment and specific research areas and do many other things. People who want to advance in their careers by leading a group and using their technical knowledge should consider applying for this position. 
Median Salary: $106,632 
Intelligence Officer
If you have a degree in GIS, one of the best GIS jobs in Canada is being an intelligence officer. You can get it by being in the military or working in government intelligence. Officers in the intelligence community should have a background in geographic information systems and skills in photogrammetry and planning terrain analysis to help with intelligence and military operations. 
When it comes to planning intelligence operations, this particular kind of information analysis has become extremely valuable to governments. Because of their high level of utility within an intelligence organization, intelligence officers with a background in GIS can command a high salary for their services. 
Those who decide to pursue this line of work can work for the CIA, the FBI, the State Department, or any other part of the government. According to Talent.com, an intelligence officer makes an average salary of $69,365 annually or $35.57 per hour in Canada. Most experienced workers earn up to $82,430 annually, while entry-level positions start at $66,280.
Health Geographer 
A career as a health geographer brings together the fields of geographic information systems and the analysis of medical and healthcare problems. Using photogrammetry and other geographical information to help understand health and disease, health geographers learn more about how geography can affect the spread of different diseases and how health care is given. 
This helps health geographers better understand how geography can assist in understanding health and disease. This is essential information for groups in a particular area trying to improve health care and find answers to a wide range of health problems. 
According to Talent.com, a health geographer makes an average salary of $49,959 annually or $25.62 per hour in Canada. Most experienced workers earn up to $49,959 annually, while entry-level occupations start at that amount.
Climate Scientist
Scientists who study climate play an essential part in our ability to understand the state of our environment and how it is changing. Photogrammetry and geographic information systems are crucial parts of climate science that should be considered. 
GIS systems help climate scientists figure out the effects of climate change over time by giving them data and images. They can see many of the things that can be seen that are changing our planet's climate, like the erosion of coastlines, the melting of ice caps, and a lot more. 
GIS students who want to use their skills to halt or at least slow climate change's progression will find this an excellent career option. Median Salary: $77,173 
Lead Geographic Information Systems Analyst 
Two primary responsibilities come with being a lead geographic information systems analyst. They are tasked with analyzing the data produced from the geographic information systems databases that they are responsible for maintaining, and they also have this responsibility. 
Lead geographic information systems analysts manage the work of analyst teams for a wide range of businesses and organizations. The goal is to help the analyst teams better understand how to use GIS software's data. 
Lead geographic information systems analysts are in charge of learning how to manipulate and understand the data to deal with a wide range of geographical problems more effectively. This involves mapping wildlife, polluted areas, carbon emissions, and other factors. 
Median Salary: $74,987 
Remote Sensing Analyst 
Remote sensing analyst uses what they know about geographic information systems to figure out what the data that remote sensing equipment collects means. Those in this industry use GIS software to analyze data collected by satellites or aircraft. 
They are in charge of formatting this image data into a format that is simpler and easier to understand for others. In addition, they try to take this data and check that it is not distorted. A job as a remote sensing analyst can lead to jobs in a wide range of other fields. 
According to Talent.com, a remote sensing analyst makes an average salary of $72,452 annually or $37.16 per hour in Canada. Most experienced workers earn up to $92,940 annually, while entry-level positions start at $61,993 annually.
Cartographer
A cartographer is one of the most obvious jobs you can get with a degree in GIS. To put it in its most fundamental sense, a cartographer is a person who makes maps. Cartographers now have access to GIS technologies, which allow them to produce maps that are significantly more precise than in the past. 
Cartographers are in charge of figuring out how to use the information collected by the thousands of satellites currently mapping the Earth's surface to make better maps. It is also the responsibility of cartographers to map areas that have not yet been mapped by humans, such as the ocean floor or distant planets. 
According to Talent.com, a cartographer makes an average yearly salary of $89,440, or $45.87 per hour in Canada. Beginning salaries for entry-level employment are $78,003, while those with the most experience can earn up to $360,750 a year.
Law Enforcement 
Using geographic information systems (GIS) has gained widespread acceptance among law enforcement personnel and organizations. People with a degree in geographic information systems (GIS) have been very helpful to law enforcement agencies in the modern world. 
In modern law enforcement, geographic information systems are used for surveillance to help reduce crime and determine how often certain types of crime happen in different places. This helps both law enforcement and the general public. 
People who know how to use geographic information systems (GIS) can help law enforcement agencies by helping them use GIS software and systems to track and map out criminal activity in a certain area. A decrease in illegal activity may result from a better understanding of this technology. 
According to Talent.com, a law enforcement officer makes $56,701 a year, or $29.08 an hour in Canada. Most experienced workers earn up to $78,158 annually, while entry-level occupations start at $46,439 annually.
Conservationist
The main goal of environmentalists and conservationists is to help protect the world's natural resources, which are running out. Geographic information systems are helpful in this field and can be used in many ways, such as for conservation and advocacy. 
Using remote sensing technology and GIS software, conservationists can learn more about how different areas are losing their wildlife and what needs to be done to protect the animals that live there. Regarding arguing for the For, This information can also be used as proof to back up one's position on preserving these wildlife areas. Median Salary: $61,310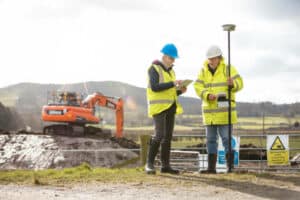 Surveyor 
A surveyor is a person who works to determine precisely what the boundaries of a property are. In the fields of real estate and construction, this is a critically important job function. Surveyors can improve the precision of their measurements of a given lot's property lines by drawing on their familiarity with geographic information systems (GIS) and photogrammetry. 
This is important to ensure that building projects make good use of their land and don't get in the way of other people's space. Most of a surveyor's work takes place outside, making this one of the more appealing GIS careers for people who enjoy being in nature. 
According to Talent.com, the average surveyor earns $62,500 a year, or $32.05 an hour in Canada. Most experienced workers can earn up to $91,421 per year, while entry-level occupations start at $43,875 annually.
GIS analyst
A GIS analyst works with the data that geographic information systems (GIS) produce to make spatial data sets, maps, databases, and other related products. It is helpful to think of a GIS analyst as someone who interprets the raw data collected by satellites and other types of remote sensing equipment. This is a good way to conceptualize the role of a GIS analyst. 
The management of data constitutes a significant portion of this work. Most of the time, these GIS platforms produce voluminous amounts of data. GIS analysts are responsible for storing the data and making it accessible to non-specialists in a format that is easy to understand. 
The average GIS analyst salary in Canada, according to Talent.com, is $38.72 per hour, or $75,504 per year. Beginning salaries for entry-level employment are $60,421; those with the most experience can earn up to $91,124 per year.
City Planner
Planning how to use land in cities requires various abilities and knowledge, including a working knowledge of GIS. City planners must consider many factors when developing plans for cities and urban areas, including anticipated population growth, available community resources, available living space, and more. 
Geographic information systems have given city planners a new way to do their job. City planners with a GIS degree are prepared with a skill set that will allow them to map out and plan the cities of the future more accurately.
According to Talent.com, a city planner makes an average salary of $70,199 per year, or $36 an hour in Canada. Most experienced workers earn up to $107,718 annually, while entry-level occupations start at $54,791 annually.
GIS Developer 
Another technical role within the family of careers that deal with geographic information systems is that of a GIS developer. GIS developers are in charge of creating the software that GIS systems use to function. 
As a GIS developer, one of your jobs will be to write code that talks to the hardware systems that run the remote sensing and photogrammetry platforms used in GIS. These software solutions are needed to take the data made by this hardware and turn it into data that can be interpolated and interpreted for other uses. 
To succeed in this field, GIS developers need to have a solid foundation in coding and their knowledge of GIS. In Canada, the average GIS developer's Salary is $44.75 per hour, or $87,263. Most experienced workers earn up to $100,000 annually, while entry-level positions start at $80,432 annually.
Geospatial Analyst 
The job of a geospatial analyst is the most important one in environmental records. Geospatial analysts use technological tools and data sources to track how landscapes and topography have changed. 
This is very important information that can be put to use in a variety of different fields. Geospatial data analysts assist others in understanding how the lands around us are changing and transforming. This is important information for many jobs, such as construction and urban planning. Geospatial analysts are needed to help people figure out what has happened to the land over time. 
According to Talent.com, the typical $70,508 per year principal analyst earns $36.16 per hour in Canada. Most experienced workers earn up to $93,717 annually, while entry-level roles start at $65,210.
GIS Technician 
A GIS technician's job is, among other things, to use GIS information to make maps and GIS databases. Compared to other GIS careers, this is one of the more entry-level options, and it is an excellent place to begin working in the field after receiving a degree in GIS. 
GIS technicians use a variety of methodologies, including photogrammetry and GIS data collection, to create databases and maps that a wide range of industries can use. A geographic information system (GIS) technician works closely with GIS data to make GIS systems that can be used to give useful information about a certain area. 
According to Talent.com, the average GIS technician earns $63,565 annually or $32.60 per hour in Canada. Most experienced workers earn up to $73,633 annually, while entry-level jobs start at $54,064 annually.
Tips for Finding Entry-Level GIS Jobs in Canada
GIS Jobs in Canada: In the first few months after graduation, it can be challenging for many recent graduates to find entry-level GIS jobs that meet their needs. It may appear to be difficult to break into the industry, and it may also appear as though there are very few job opportunities available. 
Investigate the local community groups in your area. 
Researching the different community groups in the area is one of the most effective ways to connect within the geospatial science field. Make connections with people with a lot of power in the community and try to get noticed at any events involving the geographic sciences. This will give you the groundwork to look into other opportunities in your area as they become available. 
You Should Think About Getting Your GIS Certification. 
Acquiring certifications is one way to improve your chances of getting hired, which can be helpful if you want to broaden your job search parameters. If you want to demonstrate to potential employers that you have a high level of training and are familiar with the software and best practices used in your industry, earning a Geographic Information Systems Professional certificate is a good way to demonstrate that. 
Schedule a lot of interviews. 
When looking for jobs that start at the entry-level in the GIS industry, it is important to schedule work that will provide you with invaluable, hands-on experience. 
Utilize the services of temporary staffing agencies. 
Make sure to schedule an appointment with a temporary staffing services company if you are having trouble finding solutions to your challenges during your job search. 
GIS Jobs in Canada: Job role 
One of your main jobs as a GIS analyst will be to take care of location-based data, which is some of the most important information in the world. Geomatics professionals can help us make sense of all this information to make better decisions and save lives. This could mean anything from keeping track of where customers shop to figuring out where more speed bumps are needed. 
Workloads for projects are handled by GIS technicians, drafters, and analysts. They do the heavy lifting. There would be a strong basis for the data if they were present. However, monetary compensation is only one aspect of the problem. In the field of geomatics, there are many different ways to make a living, from doing simple things like editing data and writing metadata to more complicated things like making maps and visualizing data sets. And at every level in between.
This group is responsible for some or all of the responsibilities listed below: 
Technologists and technicians specializing in aerial surveys and remote sensing 

Develop specialized analog and computer software-specific routines to customize and integrate image analysis. 

Operate analog or digital airborne remote sensing equipment such as survey film or digital cameras, laser or radar sensors, and scanners to prepare images, data, graphic reports, maps, and charts from airborne or satellite data. 

Inspect the quality of the recorded images, validate the authenticity and precision of the data in the remote sensing image analysis systems, and make any necessary adjustments to the equipment.

Technologists and technicians specializing in Geographic Information Systems (GIS). 

Modeling, managing, analyzing, and displaying geospatial data requires the operation of specialized computer hardware and software and peripheral equipment. 

Customize geographic information by developing specialized computer software routines, Internet-based GIS, database applications, and business programs. 

Collaborate with other organizations outside your company to address data transfer and system compatibility concerns. 

Carry out activities pertaining to data entry and editing, as well as maintenance operations on systems in accordance with predetermined calibration procedures. 

Integrate third-party programs like spreadsheets and statistical suites with the GIS software. 

Training and offering technical support are two services provided to GIS users. 

Technologists and technicians specializing in cartography 

Using aerial photographs, survey notes, records, reports, and other maps as sources plan the details of the map's content, format, and design, and compile the necessary data. 

Generate maps along with the associated graphs and charts by utilizing digital mapping techniques, computer interactive graphics, computer-assisted design and drafting (CAD) software, traditional drafting methods, and computer or scribing tools. 

Examine finished compositions to check for accuracy and ensure that everything has been included. 

Technologists and technicians specializing in photogrammetry 

It is necessary to analyze and interpret aerial photographs to create topographic maps, aerial photograph mosaics, and other related charts.
GIS Jobs in Canada:
Job titles
GIS Jobs in Canada:
FAQs 
Is a career in GIS analysis a good one to pursue? 
If you're looking for a job that's not only interesting but also in high demand, you should consider becoming a technician for a geographic information system (GIS). You will learn about mapping and spatial analysis, two skills that are useful in various fields ranging from epidemiology to urban planning. 
What does it mean to work as a GIS analyst? 
GIS analysts put together the maps you see on your mobile device, in your vehicle's navigation system, and even at the gas station in your neighborhood. 
They analyze spatial data and digital design maps using mapping software so that the maps can be used for various purposes. One of their primary responsibilities is to collect data on land use, which they then use to determine the most effective ways to use that land. 
GIS analysts can do more than just create digital maps; they frequently develop the analysis software they use themselves or assist businesses in developing new workflow systems. 
Is there a lot of demand for GIS? 
People interested in working in the GIS industry will find an active field, expanding, filled with many opportunities. As technology becomes more common and a part of our everyday lives, there is a rise in the need for qualified GIS professionals. There are currently more than 100,000 open positions in this industry waiting to be filled. This number is expected to grow by another 50% in the next five years. 
Are GIS jobs hard to get? 
It can be difficult for many recent graduates to find entry-level GIS jobs in the first few months of searching. The industry can seem tough to break into, and it may seem that job opportunities are few and far between. But by working with experts and temporary staffing services, you can find your ideal role.
It shows more opportunities for GIS professionals, even though the competition is very tough. Demonstrates that there is a high demand for GIS jobs. It shows more opportunities for GIS professionals, even though the competition is very tough. 
What qualifications are necessary to work as a GIS analyst? 
A bachelor's degree in geography or another field directly related to the work is required to work as a GIS analyst. In addition, you will need at least two years of experience working with GIS software such as ArcGIS or QGIS. 
In addition, you will need to have a working knowledge of programming languages such as Python or R.
GIS Jobs in Canada: Conclusion 
When working with GIS, it's important to know how to use different data formats and software, like CAD, Rasters, BIM, and LiDAR. Also, you should know how to create spatial datasets, manage databases, build web applications, integrate data, and automate workflows. If you possess even a few (or all!) of the skills listed above, you will be an invaluable member of any GIS team.
SEE ALSO: Best Jobs in Montreal 2022/2023
Welding jobs in Canada 2022/2023: Amazing guide