Factory Workers Jobs in Canada 2023-24
Are you interested in factory workers jobs in Canada? Then read on for all you need to know about Canada's factory workers' profession.
Factory workers operate tools and machinery, monitor machines, and may clean and repair equipment as needed while working on a production line. 
Most factory workers are skilled manual laborers who can meet deadlines and perform repetitive tasks. They typically work in manufacturing or processing facilities. 
For your convenience, we have included the salary, how to apply for factory workers jobs, and other important information you need to know. Read below for the factory workers salaries in Canada. 
You might also be interested in chemical engineering jobs in Canada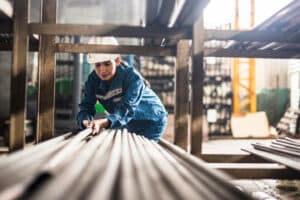 Salary of factory workers jobs in Canada
The average annual wage for factory workers in Canada is $30,908, or $15.85 per hour. Most experienced workers earn up to $39,000 annually, while entry-level positions start at $27,300.
Duties and Tasks 
Operating equipment in a manufacturing environment. This could entail switching between various pieces of machinery or specializing in one particular procedure. 

Observing health and safety regulations to protect employee safety and the quality of the product being produced. 

Maintaining and cleaning equipment as needed and alerting senior staff to any issues.

Working on an assembly line as a part of the manufacturing process. 

Operating tools or machinery as required. 

Packaging and product sorting. 

Confirming that every item complies with requirements. 

Arranging rejected goods. 

Preserving the cleanliness of the workplace. 

Arranging items for delivery. 

Observing the required health and safety procedures in an industrial area.
Note: Factory Workers may be required to work shifts (day, evening, weekend), overtime, and on public holidays, depending on the environment.
Also, click here for a guide on jobs in Yukon Canada
How to become a Factory Worker
Although formal education is not necessary to work as a factory worker, it is typically preferred to have prior experience in a processing or manufacturing environment. Depending on your work sector, you might also require a particular certification (such as a national police clearance or a forklift license). 
Pick a sector of the economy to work in. Factory workers can find work in various sectors, including the food, transportation and logistics, construction, and automotive industries.

Investigate whether you need additional qualifications or to supply your personal protective equipment before applying for entry-level positions (such as a hard hat or safety boots). 

To expand on the knowledge you've gained on the job, consider enrolling in TAFE courses or participating in on-the-job training.

Receive your high school diploma or GED. 

Obtain solid practical skills by taking forklift driving lessons and learning about the processes and goods that the factory produces. 

Acquire training on the job. Once you get the job, you can receive on-the-job training and gain experience. 

In time, you can look for opportunities for advancement in your factory to pick up specialized technical knowledge that might qualify you for a higher-level position.
What qualifications are necessary to work in a factory? 
There are a variety of abilities that can be useful for factory workers, such as: 
Ability to listen and obey directions: Obey safety regulations as line managers assign various tasks. 

Physical endurance: Working in a factory may require standing for extended periods and lifting heavy objects. 

Work as a team: Factory workers must cooperate. 

Concentration: Remaining vigilant is essential because you might have to repeatedly carry out the same tasks.
You might be interested in Electrical engineering jobs in Canada
What are the different types of factory workers' jobs?
Different facets of the manufacturing process are the focus of factory jobs. As a factory employee, you might work on a production line where you manufacture, assemble, or package goods or components. 
While supervisors or foremen manage a department or keep an eye on the entire factory floor, shift managers oversee operations during a specific period of the day. 
As a technician, one of your responsibilities is maintaining manufacturing equipment. Additionally, managers, support staff, accountants, designers, engineers, and quality assurance specialists are employed by factories. 
Industry sectors where factory jobs are available include those for automotive, apparel, food, electronics, home goods, and industrial goods.
What Are the Factory Work Conditions? 
Depending on the type of operations carried out, a factory's working conditions can change. Throughout your workday, you might be required to move quickly, stand or bend over for extended periods, and lift heavy objects. 
But this isn't always the case. Some factory workers sit down for the majority of their shifts to monitor equipment or supplies. Some factories, like those that make food or medical products, maybe clean, quiet, and sterile, while others may be noisy or fume-filled.
Apply for Factory Workers Jobs In Canada
FAQs On Factory Workers Jobs in Canada
Can a factory worker obtain permanent resident status in Canada? 
You may be qualified to apply for permanent residency through the Federal Skilled Worker Program if you are employed temporarily by a Canadian employer and the employer has made you an offer of permanent employment. Arranged employment is the term used to describe such an offer.
Can I move to Canada to work as an unskilled laborer? 
In 2023, it won't be as difficult to immigrate to Canada as a low-skilled worker as you might imagine. This is because the economy also depends on unskilled workers who are considered the backbone of major industries, including farm workers, truck drivers, waiters, and janitors.
How long do factory workers in Canada put in each week? 
The typical work week in Canada is between 37.5 and 40 hours, from Monday through Friday, between 8:00 or 8:30 a.m. and 5:00 p.m. (7.5 or 8 hours per day).
How old must you be in Canada to work in a factory? 
15 years of age.
For jobs in factories other than logging operations, such as those in manufacturing or assembly plants, you must be at least 15 years old.
What does an Ontario factory worker make on average? 
In Ontario, Canada, the average salary for a factory worker is $40,118 per year and $19 per hour. Factory Workers typically earn between $30,449 and $46,697 per year in salary.
What does a factory worker in Toronto earn? 
In Toronto, Ontario, the average gross wage for a factory worker is $41,181, which equates to $20 per hour. This is $2,372 ($6%) more than a Canadian factory worker makes on average. Additionally, they receive a $515 bonus on average.
What is the NOC for factory workers' jobs in Canada?
9619 – Other laborers in processing, manufacturing, and utilities.
Do I need a job offer to come to Canada to work in manufacturing as a laborer? 
No, a job offer is not a requirement to relocate to Canada as a laborer in the manufacturing industry. 
What is the typical wage for a laborer in Canada's manufacturing industry? 
In Canada, the average yearly wage for a laborer is $37,510.
What are the general requirements to immigrate to Canada as a laborer in manufacturing?
Generally speaking, to work in Canada, a foreign national must meet the following requirements: 
Language proficiency

Educational qualifications

Age

Work experience

Spouse ability

Weather conditions
Conclusion
Is working as a factory worker in Canada a dream you believe will never come true? Not. 
Above are the things you need to know to land a job in that field. The demand for workers in your field and the requirements for factory workers' jobs in Canada.
READ ALSO: Caregiver Jobs in Canada – Ultimate Guide In 2023
References 
LinkedIn 

Canadajobbank

Indeed

Glassdoor

Jooble

Workopolis

Quikr