Explore High Paying Jobs in Germany in 2023/24: Best Guide
Are you interested in high paying jobs in Germany in 2023/24? then you need to read this article.
The German economy is performing well, yet there is room for further improvement. Nearly half of all companies faced challenges in the spring of 2022 due to a shortage of skilled workers, according to the semi-annual 'skilled labour barometer' published by the state development bank KfW. This scarcity of skilled labor reached a historic high, particularly affecting the manufacturing sector. An additional study conducted in April 2020 identified a need for approximately 320,000 skilled workers, specialists, and academics in mathematics, information technology, natural sciences, and technology.
Which specific skills are currently in high demand? German companies seek employees across various industries, including skilled labor and engineering roles. The following areas are experiencing particularly high demand:
Raw material extraction

Production and manufacturing

Natural sciences

Information technology

Air transport

Energy technology
Furthermore, numerous job opportunities are available outside of the industrial sector, with notable demand in these fields:
Agriculture, forestry, and animal husbandry

Horticulture

Construction

Architecture

Surveying and building technology
In the skilled trades, both men and women are in short supply, especially in the following sectors:
Bakeries

Carpentry workshops

Electrical Companies
Additionally, there are numerous vacancies in other sectors, including:
Health and care

Teaching and Education

Social Affairs
SEE ALSO: Discover the Best Computer Technician Jobs in Canada in 2023/24
Are people from abroad eligible for these jobs?
Individuals from abroad are eligible for these job opportunities in Germany. This perspective is not only supported by companies and the government but is also shared by the population. According to a recent survey conducted by KfW, 83 per cent of the population believes that efforts to attract skilled workers from abroad should continue as they have been, and nearly half believe these efforts should be intensified.
If you are interested in working in Germany, there are several steps you can take. The 'Make It In Germany' initiative is your primary resource. This official German government website provides comprehensive information in eleven languages and across two dedicated country pages. It offers all the necessary guidance for finding a job and entering the German workforce.
Top 12 High Paying Jobs in Germany 2023
Germany's economy ranks among the most international worldwide, following only the USA, China, and Japan. As the leading trading nation in the European Union, Germany boasts a robust economy characterized by innovation and global exports. Its strong economic foundation, exceptional infrastructure, and high-income levels make it a magnet for individuals worldwide, including international students.
Beyond offering excellent employment opportunities to a diverse talent pool, Germany is a sought-after destination for expatriates. Many companies in the country provide various employee benefits and perks, often surpassing those found in many other European nations.
The high paying jobs in Germany primarily fall within the medical, engineering, and financial sectors. According to recent research, the top-paying jobs in Germany typically command annual salaries of at least €55,475. As of 2023, here are the top 12 high paying jobs in Germany:
Doctor

Pilot

Sales Manager

Lawyer

Portfolio Manager

College Professor

Engineering

Software Developer

Project Manager

Risk Manager

Judge

Tax Advisor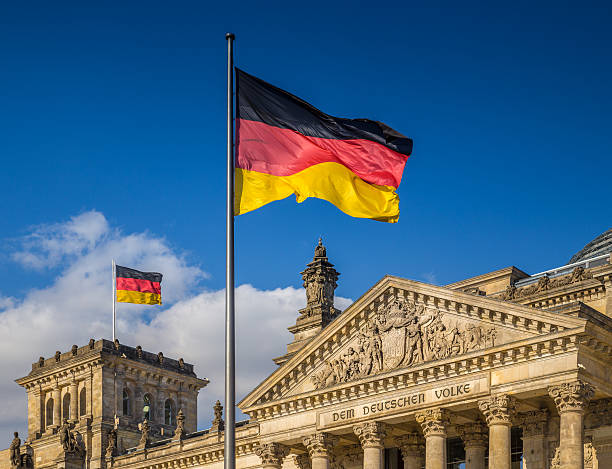 READ ALSO: Visa Sponsorship Jobs in Gulf Countries 2023 
Overview of the top 12 high paying jobs in Germany:
Doctor
Average Salary: €71,600 – €101,696 per year

Description: Doctors diagnose and treat various medical conditions, ranging from minor injuries to complex surgeries. They also coordinate patient care with other healthcare professionals. In Germany, becoming a doctor requires rigorous education and training, including a bachelor's degree in a relevant field, medical school, and clinical training.
Pilot
Average Salary: €93,499 per year

Description: Germany hosts major airlines, offering numerous pilot positions. Pilots start as first officers and progress to captains with experience. Opportunities include domestic short-haul and international long-haul flights.
Sales Manager
Average Salary: €82,392 per year

Description: Sales managers lead and manage sales teams, earning a competitive salary for their responsibilities. Strong communication, leadership, and organizational skills are crucial in this role.
Lawyer
Average Salary: €81,254 per year

Description: Lawyers are in high demand in Germany due to its complex legal system. They represent clients in legal matters, requiring a comprehensive understanding of the law.
Portfolio Manager
Average Salary: €80,000 – €120,000 per year

Description: Portfolio managers help individuals and organizations invest their money for higher returns while managing risks. They play a vital role in the financial and banking sectors.
College Professor
Average Salary: €74,200 per year

Description: Professors in Germany are highly regarded and well compensated. They organize higher education functions, conduct research, and teach various subjects.
Engineering
Average Salary: €63,000 per year

Description: Engineers in Germany design, construct, and maintain various structures and systems. Electrical, mechanical, and chemical engineering are among the top specialities.
Software Developer
Average Salary: €45,000 – €80,000 per year

Description: Software developers create custom software solutions for businesses. Strong technical skills, communication, and teamwork are essential for this role.
Project Manager
Average Salary: €45,000 – €90,000 per year

Description: Project managers oversee multiple projects, maximize productivity, and coordinate teams to achieve targets. They are in high demand across industries.
Risk Manager
Average Salary: €70,000 – €85,000 per year

Description: Risk managers identify and mitigate internal and external business risks. They play a crucial role in managing a company's capital and investments.
Judge
Average Salary: €76,619 per year

Description: Judges instruct juries, make rulings, and sentence criminal defendants. They have significant responsibilities and make important decisions.
Tax Advisor
Average Salary: €70,000 per year

Description: Tax advisors assist individuals and businesses in navigating complex taxation laws. They provide tax planning advice, prepare tax returns, and represent clients in tax disputes.
SEE ALSO: LMIA Approved Jobs in Canada – Best Guide to work in Canada In 2023
How to Find High Paying
Jobs in Germany
?
Searching for a job in Germany can be rewarding, given its strong economy and demand for skilled professionals. Here are some valuable tips to assist you in your job search:
Research Prospective Employers: Identify companies and industries that align with your skills and interests. Research these organizations to learn about their job openings and application processes.

Language Skills: While not all positions require fluency in German, having some language knowledge is beneficial. Consider taking language courses to improve your proficiency.

Networking: Attend job fairs, career events, and industry-specific gatherings to expand your professional network. Connecting with individuals in your field can provide valuable insights and job leads.

Consider Universities: German universities often offer researchers, professors, and administrative staff job opportunities. Explore positions in academia if they align with your career goals.

Online Job Search: Utilize job search websites and platforms like LinkedIn, Indeed, and Monster to identify job openings in Germany. Customize your resume and cover letter for each application.

Tailor Your Application: Craft your resume and cover letter to match the specific job you're applying for. Highlight relevant skills and experiences that make you a strong candidate.

Follow-Up: After interviews, send a thank-you note or email to express your appreciation and reiterate your interest in the position.
Conclusion on High Paying Jobs in Germany
In recent years, Germany has consistently maintained a strong and stable economy, making it one of the top countries globally for employment opportunities and job satisfaction. A diverse range of industries and sectors ensures that professionals can access high-paying jobs. A career with a substantial salary is essential for those seeking financial stability and a comfortable lifestyle. Germany offers numerous professions that provide lucrative salaries and avenues for career growth. 
FAQs on
High Paying
Jobs in Germany
What constitutes a good salary in Germany?
Germany considers an annual gross wage of €60,000 significantly higher than the national average of €47,700, making it a benchmark for a well-paying job.
Which job roles are in high demand in Germany?
The most sought-after positions in Germany include:
Electronics Engineers

IT Specialists, Software Developers, and Computer Scientists

Mechanical Engineers

Business Analysts and Account Managers

Architects and Civil Engineers
Is finding employment in Germany straightforward?
Germany boasts one of the lowest unemployment rates in the EU, offering a highly competitive job market with a strong demand for skilled workers. After completing your formal education, you have 18 months to secure a job.
Which German city provides the most job opportunities?
Frankfurt is renowned for hosting numerous cultural events and is celebrated for its vast employment prospects and attractive salaries among German cities.
What is the average income of a medical doctor in Germany?
Medical doctors in Germany earn an average annual salary ranging from €70,000 to €80,000.
What is the typical salary of a lawyer in Germany?
Lawyers in Germany can expect an average annual income of €70,000 to €90,000.
What is the average earnings of an IT manager in Germany?
IT managers in Germany typically earn an annual salary ranging from €70,000 to €90,000.
What is the average income of a management consultant in Germany?
Management consultants in Germany have an average annual income between €70,000 and €100,000.
What is the typical salary of a corporate finance manager in Germany?
Corporate finance managers in Germany typically earn an annual salary ranging from €70,000 to €90,000.
What is the average earnings of an engineer in Germany?
Engineers in Germany enjoy an average annual salary ranging from €60,000 to €70,000.
READ ALSO: Explore the USA Visa Sponsorship Jobs in 2023 – Online Application