Best In-demand Jobs in Canada: 2023
Anyone would be curious about the in-demand jobs in Canada and the associated salaries, given the rate at which foreign nationals move to this country in search of "greener pastures." Even though Canada has a strong economy, it is still important to think about getting a job to make the relocation worth it. 
Canada is among the friendliest and safest places to live, work, and study. Canada has great immigration and recruitment options to help more talented people improve their skills and knowledge while getting the work experience needed to boost the economy.
Numerous skilled workers worldwide are granted work visas to Canada to work there. Canada allows all immigrants to work there and live fulfilling lives because it offers many exciting career opportunities in many fascinating industries.
Many immigrants decide to work in Canada because there are so many job opportunities, allowing them to build their futures successfully. After reading this article, you will find the perfect job if you are qualified and looking for in-demand jobs in Canada.
Most Canadian provinces and territories have lists of jobs that are in-demand jobs in Canada. These lists are based on what each labor market needs. Through Provincial Nominee Programs, you may have a better chance of being chosen, getting a job in Canada before you get there, or getting a job quickly if your skills match what a certain province wants.
Even though the outlook for the economy and the industrial sector differs from province to province, there is some overlap between the sectors in dire need of qualified labor. 
In-demand jobs in Canada: Top Industries 
Social and healthcare sectors
The healthcare industry urgently needs qualified workers. Most provinces seek qualified medical professionals, registered nurses, and caregivers. Due to their importance, these positions would continue to be sought-after in Canada. There are employment opportunities for social workers, educators, and professors of all levels.
Manufacturing
Jobs in this sector are in-demand jobs in Canada. The jobs are available in almost every part of Canada's manufacturing industry, including  chemicals and pharmaceuticals, plastics, meat packing, and wood processing. 
Services sector
Most provinces' economies are primarily supported by the services sector. There are jobs in administration, sales, retail, hospitality, accounting, and management in finance, human resources, and marketing in many different fields.
Building
The construction industry has expanded in almost every Canadian province. Workers are needed in the construction industry, including managers and skilled craftspeople like masons, electricians, and carpenters. these categories of jobs will remain in-demand jobs in Canada because they are needed absolutely everywhere.
Top In-demand Jobs in Canada 
Developer (NOC codes: 2174, 2175)
Throughout the pandemic, developers have been in high demand for jobs in Canada. This is because businesses have stayed committed to finding technological solutions. People with experience in these fields of work have a wide range of Provincial Nominee Program (PNP) opportunities because of the high demand.
If you are a tech-savvy person who understands how to source flaws, execute scripts and construct computer programs, your abilities would be incredibly valued in Canada. You can help the Canadian economy and make a living wage that gives you a good quality of life. According to the Canada Job Bank, developers' talents are in demand in Canada, with 64,200 new job openings expected between now and 2028.
Median hourly wage on Average: $38.46
Key account manager (NOC code: 0601)
Through sales and customer service, key account managers work with their companies as strategic partners to help keep customers. Workers in this field make it possible for businesses to thrive in the post-pandemic economy. Key account managers are in high demand in Canada because there aren't enough people to do other jobs.
This is a job for immigrants who are good at getting along with customers and building long-term relationships with key players who bring in the most sales.
Median hourly wage on Average: $50.00
Marketing manager (NOC code: 0124)
Marketing managers are very important in every business, as they help businesses implement their marketing strategies both online and offline. To work in this industry, you need to be able to work in a place where everyone gets along and where the culture is creative. If you are an expert in organizing campaigns and raising awareness, you could prosper in this field as well as in Canada.
According to the Canada Job Bank, advertising, marketing, public relations managers, and other related fields may expect to see a total of 19,400 new job openings from 2019 to 2028.
Median hourly wage on Average: $ 43.27
Registered nurse (NOC code: 3012)
If you are a person who loves to care for patients and their well-being, then you stand a chance in this job role. Nurses are highly in demand in the healthcare sector across the country. This is due to the labor shortage experienced during the pandemic.
This is a good chance for you because nurses have been receiving progressively higher bonuses and benefits. As an immigrant with expertise. You have the opportunity to take up jobs in this role due to the high demand for nurses.
Median hourly wage on Average: $ 40.00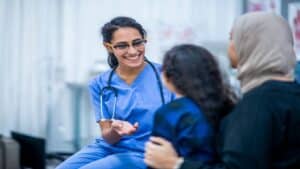 Driver (NOC codes:  7511, 7512, 7513, 7514)
If you are a driver or you can work in this field, there is a very high demand for this role. As Canada's economy gets better after the pandemic, the number of drivers who are needed has gone up. In the Canadian job market, drivers who operate large commercial vehicles or make local deliveries will have a clear advantage because they get highly paid and have good work hours.
By 2028, Canada expects the economy to add 23,000 welding jobs. Most places, such as British Colombia, have an exceptionally high demand for welding positions. However, people with welding experience and skill are at a significant advantage nationwide.
Median hourly wage on average: $ 19.00
Engineer (NOC codes:  2131, 2132, 2133,  2134,  2141,  2142,  2143,  2144,  2145,  2146,  2147, 2148)
Engineering would always be on the list of in-demand jobs in Canada due to the rate at which the world advances in such fields. There are a lot of innovations that need special care to remain in good condition. Engineers make sure that they maintain this innovation and make sure there are solutions to whatever problem arises while using it. As there aren't enough engineers in Canada, employers look to people from other countries to fill jobs.
Median hourly wage on average: $44.00
Accountant (NOC code: 1111)
Companies rely on accountants to achieve success in their operations. Accountants are important in the running of a business, which is why they are always one of the most in-demand jobs in Canada. These people look at and Evaluate the accounting and financial records of individuals and businesses to make sure they are correct and follow the rules and standards for accounting.
In the economy after a pandemic, where businesses are growing, it is more important to keep control of money. In the coming years, accountants can look forward to job opportunities all over the country that might grow.
Median hourly wage on average: $ 35.75
Cloud architect (NOC code: 2171)
Cloud Loud architects are technology specialists who supervise and implement the company's computing strategy. They are needed to provide support and set up cloud solutions, especially since Canadian companies are moving toward remote work. Because of this, there will likely be a lot of demand for cloud architects in 2022.
Median hourly wage on average: $ 41.03
HR manager (NOC code: 0112)
Human resource managers (HR) are integral parts of any company. It is one of the most in-demand jobs in Canada, and it will continue to come up even in years to come. Human resources or personnel departments plan, organize, direct, control, and assess their activities.
They plan human resource needs in collaboration with other departmental managers. coordination of internal and external training and recruitment efforts. They reduce staff turnover, ensure organizations comply with labor regulations, and foster business expansion. The pandemic is one of the reasons for the increase in demand.  of this job role. Human resource professionals assist in managing corporate growth and onboarding new personnel. According to the Job Bank, 49,000 new job opportunities will be available between 2019 and 2028.
Median hourly wage on average: $ 49.74
Electrician (NOC code: 7241, 7242, 7243, 7245, 7246)
Electricians are among the most in-demand jobs in Canada. Electricians are always in demand since electrical operations must be in place for things to perform well throughout day-to-day operations. They are needed in people's homes and businesses. Electricians will face a growing demand of 23,400 job openings between now and 2028, according to the Canada Job Bank.
To fill job openings in the labor market, Canada will need to hire 23,400 electricians between 2019 and 2028. Only 20,300 job applicants are anticipated to be available to fill these positions. In Canada, workers in this job role are important to keep operations running. Nationwide demand for electricians in all specialties exists this year.
Median hourly wage on average: $ 30.00
READ ALSO: Highest-paying Canadian Jobs: Amazing Guide 2022
Bottom line: In-demand jobs in Canada
Canada is a fantastic place to work because of its robust economy, increasing sectors, excellent earnings, and respect for workers' rights. Canada attracts international personnel from all over the world. Because of Canada's rapid growth and aging population, there are over 1 million job opportunities nationwide. If you are a foreign national, you must have a work permit from Canada to work in Canada. 
For immigrants to take advantage of this opportunity, we have conducted comprehensive research to provide you with the best in-demand jobs in Canada for immigrants in 2022 and beyond.
Best In-demand jobs in Canada: FAQ
Can I enter Canada without having a work offer?
Yes, you can move to Canada without a job offer if you apply through a certain provincial nomination program. Through the Saskatchewan Immigrant In In Nominee Program, provinces like Saskatchewan provide several routes for immigrants to enter Canada without a work offer (SINP).
Which provincial nominee program in Canada has the most straightforward application procedure?
The Alberta Immigrant Nominee Program (AINP), which accepts candidates with CRS scores as low as 300 points, is one of the easiest PNPs to apply for.
What occupation is most common in Canada?
The most common profession is that of a retail salesperson. The associated skills include communication, customer service, problem-solving, dependability, and positivity. This is the best job in the country for women and the second best for men. It also has the NOC Code 6421, a job in demand in Ontario and other provinces.
Is it possible to get work in Canada as a foreigner?
Canada encourages people from other countries who have the right skills and work experience to apply for jobs in Canada. This is partly because some provinces are short on skilled workers. You can get a job in Canada if you have the correct set of in-demand skills. However, before applying and relocating to a Canadian city, you should conduct research.
READ MORE: How to Apply for Temporary Foreign Worker Jobs in Canada; Hurry