19 Best Places to Live in Canada
Places to live in Canada: Are you considering moving to Canada? If so, then this guide is for you. It includes every detail you need to know about the best places to live in Canada.
Like every other person, you must be here because you want more information about the best places to live in Canada your newfound place that anyone would like To call home. Trust me, every ride in that country is worth every penny. 
With the rise in crime rate and the housing cost, it is notable that everyone, including immigrants, deserves the best place to live in Canada. In this article, we will be listing the best places to live in Canada.
When we say best, we consider benefits such as affordable houses, places with low crime rates compared to other parts, outstanding quality of life and more. All these factors could make you have a stress-free and fear-free stay in those places.
Well, like every other place, it's not a hundred and one percent perfect, but to some extent, you can sleep with your two eyes closed.
The article will include all that you need to know about these places. After reading, you should be able to point out at least one of the cities that caught your attention the most. Please relish the lines, do not miss out on a part.
This article is based on ratings such as affordability, security, and accessibility to recreational structures. Read below the 19 best places to live in Canada for friends, families, young adults and immigrants.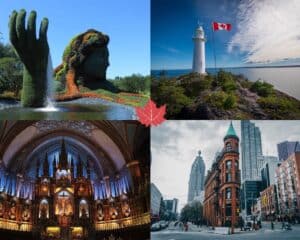 1. Quebec City – Top Hub of Culture
Topping our list for the best places to live in Canada is Quebec City. This place is one of the best places to live in Quebec, Canada. It is known for being a sight of attraction for tourists and one of the most scenic places in Canada. Quebec has more than 4.5 million people who come to visit every year.
There are places there like Old Quebec, which is a part of Quebec set aside as a UNESCO world heritage site. If you are considering this area, you should know French because it is spoken to some extent in the place, and it's the dominant language there.
Another thing about this place is it is one of the least costly places to live in Canada. Its housing cost is among the lowest in Canada's metropolitan areas.
The Quebec Winter Carnival and the Festival D'Éte are only two of the numerous festivals and important events that occur annually.
In addition, there are lots of outdoor pursuits nearby, such as skiing, hiking, cycling, and snowshoeing.
Most locals work in the pulp and timber industries, Hydropower and aerospace industries. Although there are few prospects for fast-paced, contemporary office occupations, the unemployment rate is low.
Compared to other similar-sized cities, Quebec City generally has a lower cost of living. Rent and food prices are below average, making it a cheap destination to migrate to. So what's keeping you, this is one of the best places to live in Canada, you wouldn't regret staying in Quebec City.
2. Ottawa – Best quality of life
Are you looking for the best places to live in Canada regarding the quality of life? Then Ottawa is the best bet. The city of Ottawa is usually a place foreigners find pleasing to live. The city constantly receives high marks for quality of life and cleanliness, and it is regarded as one of the most excellent places to live in Canada and beyond.
Although the city is officially bilingual, you don't need to know French because practically everyone speaks and understands English.
While knowing French is helpful, English is widely spoken. You don't need to be multilingual to lead a happy life there, but learning French may help you integrate more quickly or land a specific type of job.
There are a lot of employment prospects in Ottawa; what more can a person seek? All of these cover the best quality of life anyone would ask for.
Ottawa is a vibrant, young metropolis with gorgeous architecture, a prosperous city centre, and scenic neighbourhoods which are green and tidy. Because of its cultural diversity and the enormous number of young people drawn to the city by its two colleges, the University of Ottawa and Carleton University.
There are various trails, walkways, running tracks, and bike lanes along the magnificent Rideau Canal, which runs through the city.
Despite being higher than average, Ottawa's cost of living is still very reasonable and one of the amazing place to live in Canada. Apartments can be rented between CAN $700 to $1400 per month, depending on your desired area.
3. Vancouver Island, BC – Best for Outdoor activities
As a result of Vancouver's low crime rate, culture, and sense of community, Vancouver Island is one of the terrific places to live in Canada.
Vancouver is situated in Canada's Pacific Northwest, right off the coast of British Columbia, and is surrounded by mountains, lakes, woods, and the ocean.
It is the most oversized island on the west coast of the Americas, home to more than 500 villages and a range of educational institutions, medical centres, and public transit networks.
On Vancouver Island, there are small rural settlements far from densely populated areas and significant metropolises like Nanaimo and Victoria.
There are a variety of rural and urban cities on the island. Thus the cost of living will vary depending on where you live.
Vancouver Island is renowned for its unspoiled landscape, welcoming neighbourhoods, and laid-back way of life.
Surfing, kayaking, snorkelling, hiking and walking paths, and winter sports like skiing and snowboarding, are some examples of outdoor activities that can be carried out here. This is just part of the good things that makes Vancouver one of the nice place to live in Canada, you should be there to experience all the goodness yourself.
SEE ALSO: Amazing Reasons to Move to Vancouver, Canada, in 2022
4. Halifax, Nova Scotia – Best city for retirement
One of the most excellent places to live in Canada is Halifax. It is a city in Atlantic Canada which serves as the capital of Nova Scotia.
Halifax is one of the essential Canadian commercial ports on the Atlantic coast and is situated in one of the deepest ice-free natural harbours in the world.
Halifax offers many opportunities, first-rate medical services, and reasonably priced housing.
Halifax, while not as huge as Vancouver or Toronto, is a safe and friendly city that strikes the ideal mix between small-town charm and big-city living.
There is a nexus for cuisine, commerce, and sports in the downtown area. It's much quieter and almost like a different city outside the downtown area.
There are five sizable universities in the area, making up a substantial portion of the population. It is a beautiful city with affordable rent, food, and beverages which makes it one of the best places to live in Canada.
5. Calgary, AB – Excellent healthcare and infrastructure affordability
Alberta's largest city, Calgary, with a population of around 1.6 million people. At the meeting of two rivers, the Bow and Elbow, at the base of steep mountains, it is the sunniest location in Canada.
Calgary is a vibrant city that never sleeps and is deeply rooted in the natural world and its surroundings.
Although housing costs are rising, they are still far lower than in big cities like Toronto and Vancouver. Despite these high costs, daily living expenses are still manageably low.
In contrast to other provinces, Alberta only has a 5% sales tax that applies to all purchases made by citizens.
With work in the tourist, film, aerospace, health, and financial industries, Calgary is one of the best cities to live in in western Canada.
6. Edmonton, AB – Best city for renters
Edmonton is the most northern city in North America, with a population of over 1 million. It is situated in the province of Alberta.
Edmonton, also called the Festival City of Canada, organises more than 50 festivals annually. From May through September, there are numerous summer festivals held every few days, and from November through the end of March, there are multiple winter festivals.
Edmonton is a fantastic location for renters since it offers a relatively high minimum income, a decent cost of living, and affordable rental rates.
Some of Canada's major technology firms are based in Edmonton, the location of the biggest mall in North America, the West Edmonton Mall.
7. Toronto, ON – Top nightlife and proficient opportunities
Despite not being the capital, Toronto is the most populous city in Canada and the biggest in Ontario. More than 2.93 million people call it home.
Many immigrants and international students consider this frantic metropolis their first choice. For college students, it is among the most incredible places to reside in Canada.
The University of Toronto, Ryerson University, and York University are just a few of its top educational institutions. Toronto has expensive housing, rent, and living expenses.
Despite this, this major metropolis offers many resources, work possibilities, and facilities. For almost anything you wish to accomplish, there is a sector of the economy.
Toronto can be a terrific city if you enjoy discovering various foods and cultures.
SEE MORE: Apply for Canadian Government Visa Sponsorship Jobs 2023| Hurry
8. Charlottetown, PEI – Best place for Families
Talking about the best places to live in Canada, this tiny yet powerful city of Charlottetown comes next. This charming tiny city is known for being one of the safest in Canada and serves as the provincial capital of Prince Edward Island.
The sole airport on the island, the University of PEI, the provincial administration, and the commercial hub of the province are all located here.
It is a thriving beach village and a relatively modest town with a population of 36,000. With its vibrant energy, extensive arts and cultural offerings, and rich history, it is one of the best cities in PEI.
It is one of the best places to live in Canada for Families, and young adults.
The winters are warmer than in other parts of Canada because of the nearby waterways, yet there is still a lot of snowfall.
9. Saskatoon, SK – Amazing Low cost of living
Despite having 273,000 residents, it doesn't feel like a metropolis. Saskatoon is the largest and fastest growing city in Canada.
The downtown and surrounding suburbs have a strong sense of community and are open to newcomers. Saskatoon is built mainly around community living.
Due to its numerous bridges that span the Saskatchewan River, Saskatoon is called the "Paris of the Prairies." The Saskatoon berry is a popular ingredient in sweets, and the city gets its name from a Cree phrase that means "site of many berries."
Saskatoon, like Quebec City, has failed to become a UNESCO World Heritage Site and is home to the Wanuskewin Heritage Park, a historical First Nations centre.
It is renowned for its unique culinary scene, various neighbourhoods, and ethnically diverse populations.
The weather is the only drawback. Saskatoon experiences frigid winters, and if the conditions deteriorate too much, life may end.
Numerous public parks, playgrounds, sports facilities, and a weekly farmer's market for regional produce are all present.
People looking for frugal living in a metropolis frequently turn to this area because rent there is relatively affordable at an average of $1,000 per month.
10. Winnipeg, MB – Affordable housing prices and job opportunities
Winnipeg, the state capital of Manitoba, is commonly referred to as "Winterpeg" due to its severe winters. However, it has one of Canada's sunniest climates, pleasant summers, and breathtaking scenery.
Given Winnipeg's size, several employment options exist in various fields, including technology, industry, and public administration.
With affordable housing and rent alternatives, Winnipeg has a lower cost of living than other Canadian cities.
With numerous annual festivals and art exhibitions, like the Folk Festival at Birds Hill Provincial Park, Winnipeg is home to many diverse cultures.
Since most Winnipeg residents are open and friendly, this city attracts a lot of immigrants.
11. Saint John, NB – Best Affordable Rent
The oldest incorporated city in Canada is Saint John, founded in 1785. The town, which has the highest tides in the world, is situated where the St. John River and the Bay of Fundy converge.
Although it is a bustling port and industrial city, it quickly diversifies into new industries, including technology.
Saint John is encircled by some of Canada's most breathtaking natural scenery and magnificent old-world buildings.
Due to the numerous live musical concerts, festivals, and visual shows, it has been named the Cultural Capital of Canada. It is also well known for having the happiest inhabitants in Canada.
The cost of real estate in Saint John is among the lowest in the nation. It was ranked as the sixth most affordable city for middle-class housing in the world in 2020.
Additionally, Saint John offers some of the most affordable rents in Canada.
SEE MORE: How to immigrate to Canada as a doctor in 2022: the ultimate guide
12. Moncton, NB – The most kind and Hospitable City
The main urban area in New Brunswick is Moncton, situated in the province's interior at the geographic centre of the Maritime Provinces.
Because of its central inland location and past as a railroad land transit centre for the Maritimes, it is known by the moniker "Hub City."
The economy, transportation, fintech, and distribution of commodities are the city's key pillars. Moncton is one of the greatest places in which to launch a business.
Moncton is renowned for being kind and hospitable to tourists and immigrants. One of the most thoughtful and ideal cities for raising a family, it has received this honour.
You must be multilingual to navigate Moncton, the first bilingual city in Canada and the capital of bilingual New Brunswick.
In addition to other universities, including the University of New Brunswick and Mount Allison University, the city is home to Universite de Moncton, the largest post-secondary institution in French outside of Quebec.
13. Victoria – Top-notch Amenities
On the southernmost point of Vancouver Island is Victoria, the state capital of British Columbia.
With its tiny streets and 19th-century stone houses, it is one of the best places in Canada for seniors to reside and is named after Queen Victoria.
It is known as the "Garden City" despite having a small population of only 400,000 since it is progressive and environmentally friendly. Around every corner, there are plants and flowers, and Butchart Gardens is a well-liked tourist destination.
Victoria is a tiny city with hospitable locals, a bustling nightlife, and several amenities like top-notch educational institutions, a vibrant downtown, entertainment options, and recreational opportunities. It is a fantastic location for bicycling, and taking the ferry to the mainland is simple.
Due to its low property taxes and accessibility to medical facilities, it is the finest city for seniors. In actuality, 18% of the populace is over 65. Victoria experiences milder weather than most of Canada because it doesn't snow very often there.
14. Oakville – The best charming small-town atmosphere
Southern Ontario's Oakville is a tiny suburb close to Toronto. It was recognised as Canada's top city to live in in 2018.
The city offers a wide variety of employment options and a high standard of living. Residents get access to the Toronto job market without incurring the costs of residing there because Toronto is only a 30-minute drive away.
For people working in the life sciences, pharmaceutical, and manufacturing industries, Oakville can offer excellent employment prospects. If you work remotely or commute to Toronto for work, Oakville can be a suitable choice of location.
Despite having all the facilities of a large city, Oakville offers a charming small-town atmosphere. For individuals who enjoy the arts, music, and culture, several activities are available all year long, including festivals, museums, and art galleries.
15. Boucherville – Best for Rural Life
Are you trying to escape the sometimes hectic pace of city life? If so, Boucherville is undoubtedly among the best cities in Canada to live in for you.
In addition to being close to the national parks of Yamaska, Oka, and the Îles-de-Boucherville, rents here are also very reasonable.
A typical one-bedroom apartment in the downtown area won't set you back more than $850 a month.
Since it only takes 50 minutes to drive from the US to the US border, you'll have plenty of extra cash to utilize to cross the border.
16. Montreal – Best Nightlife, cultural and social event
One of the most excellent places to live in Canada is, without a doubt, Montreal, which is renowned for its charming cobblestone alleys and abundance of cultural attractions.
After all, residents of this thriving metropolis can rent a one-bedroom apartment for as little as $1,350 per month, which is incredibly low.
Other than that, Montreal provides a delectable selection of eateries, some of which provide some of the best food in all of Canada.
Montreal does, however, appear to be always in the construction phase. Therefore, if you choose to relocate here, you will undoubtedly have to cope with that.
Given that French is the language of choice for the majority of people, you may also need to study it. Aside from that, it has various ethnicities, making it one of the greatest cities in Canada for young adults and students.
17. Burlington – Best for Great Weather
One of the best places to live in Canada is in Burlington, Ontario, near Spencer Smith Park.
Overall, among Canadian expats, Ontario is one of the more well-liked provinces. And given how much Ontario has to offer, that makes sense.
The fact that Burlington is only 45 minutes from Toronto makes it an excellent spot to reside.
As a result, you may enjoy the ease of living close to a big city without dealing with the noise, traffic, and dense population that come with urban areas.
Additionally, Burlington residents have access to a wealth of natural landscapes because the city is situated along the southwestern shore of Lake Ontario.
Because the Bruce Trail and Niagara Escarpment are so close by, Burlington is surrounded by some of the best hiking routes in the entire globe.
Yes, the average monthly rent in this area is $1,890 for a one-bedroom apartment. However, if you have the means to do so, moving here is worthwhile due to the excellent quality of life.
Other positives include low crime rates, low unemployment, fantastic weather, and excellent public transit – quickly making this one of the most significant locations to live in Canada.
SEE MORE: Available Canadian Government jobs in 2023| work in Canada
18. Lévis, Quebec – Best for relatives
The city features top-notch hiking routes and is situated in the middle of three national parks. In Lévis, the cost of living is 25% lower than the national average, and the average price of a home is $263,500. Additionally, Lévis is approximately 18 kilometers (or 20 minutes) from Quebec City.
Cooks and marine engineers hold the most in-demand positions in the city.
Lévis is among the safest cities in Quebec and Canada, with a Crime Severity Index of 26.77. The city has a violent crime index of 463 per 100,000 residents, whereas Canada and the province of Quebec have nearly quadrupled that number.
19. High River, Alberta – Best for serenity and the outdoorsy
High River makes it to the top nineteen list of Canada's best places to live. It is located in Alberta's Calgary Metropolitan Region which will take you about 45 minutes from Calgary. During the holiday, it is well known for its conventional outdoor parade which is held during the holiday season. This parade has the entire town decorated with lights.
In addition, this city has numerous art galleries, studios, and art fairs.
High River has some of the most affordable housing: the average price you would get for a home there is $419,000, and if you are considering getting a one-bedroom flat it would cost you about $1400 per month.
Conclusion: Places to Live in Canada
Consider one of the aforementioned cities if you are contemplating migrating to Canada. You'll find one that's ideal for you, whether you want to relocate to a calmer town for some peace and quiet or are searching for chances in a big city.
Canada is a terrific place to live and to work in, this would make anyone question where the best places are in Canada. This article should be helpful as regards your selection of the best places to live in Canada. You may also wish to research the highest-paying jobs and in-demand jobs in Canada if you intend to relocate soon.
Best Places to Live in Canada – FAQs
What regions in Canada offer the best value for money?
Moncton, New Brunswick and Saint John, New Brunswick are the places to live in Canda and purchase property that are most reasonably priced. Lethbridge, Alberta, Windsor, Quebec, and Sherbrooke, Quebec, are a few additional reasonably priced cities in Canada.
Where in Canada is it warmest to live?
Some of the warmest places to live in Canada are in British Columbia and Ontario. In British Columbia, Victoria and Vancouver don't get much snow during the winter, and Victoria is widely recognized for its pleasant climate.
Where in Canada get the most sunlight?
Canada's sunniest location is Calgary, Alberta, which receives 2396 hours and 333 days of sunshine per year. In second place with 2299 hours and 321 days of sunshine annually is Edmonton.
SEE MORE: Jobs in Australia for Americans: Ultimate Guide