Amazing Reasons to Move to Vancouver, Canada, in 2023
Reasons to move to Vancouver: Whether you're moving to Vancouver from somewhere else in Canada or another country, know you are in for beautiful treats. This article will highlight great reasons to move to Vancouver, Canada, in 2022. 
Vancouver, located in the Lower Mainland of British Columbia, is one of the most sought-after cities in the world due to its fantastic beauty, class, and modern metropolitan lifestyle. This could be why people are considering moving to that part of Canada.
Vancouver has a welcoming aura, cosmopolitan culture, a friendly climate, and accessibility to the outdoors; it's no wonder people worldwide desire to call this part of Canada home. In terms of living and quality of life, it is ranked among the top five cities in the world. 
The most important thing you must consider if you are considering or seeking reasons to move to Vancouver is cost. You will need to be cost-ready because all that fame and luxuries in Vancouver have a cost. 
With a limited budget, it could be challenging to afford all of Vancouver's beautiful advantages. Read on to know the great reasons to move to Vancouver, Canada, but do well to keep in mind that class and luxury all come with costs.
READ MORE: Best 10 Cities To Settle In Canada As A New Immigrant in 2022
Top 9 Reasons to Move to Vancouver
It boasts Canada's most excellent weather. 
If you are thinking about Canada's harsh winters, you have to reexamine that because the climate of Vancouver, British Columbia, is among the best in the entire nation. Vancouver usually experiences a more mild snowfall during the winter because of its proximity to the coast. 
Though there are times when Vancouver's winter climate can be bleak and rainy, it is still tolerable compared to the weather conditions of other nations. So this is one of the reasons to move to Vancouver in Canada.
Abundant cultural diversity 
Vancouver is home to a diverse mix of countries, making it among the most exciting cities in the world. Who wouldn't want to live in such a place where one's horizons will widen? You should consider this reason for moving to Vancouver.
Cultural diversity has impacted the city. There is hardly a thing you would come across that you wouldn't see the impact of global influences on, even when you visit a restaurant, café, shop, and more. 
Its cuisine is unrivaled. 
When we talk about food, Vancouver is supposed to be considered a foodie city. Well, who doesn't like food? No one. Regarding reasons to move to Vancouver, is good food not enough to move to a place? You can never truly understand how amazing food can be unless you've had it. 
Vancouver is a foodie city, where the seafood is fetched and purchased, then processed in restaurants where it is served; newbies and visitors usually think that the food tastes better here. 
The region is home to excellent food markets, including Granville Island, specialty stores for aspiring chefs, and fantastic eateries and cafes.
Education Opportunities 
Vancouver has outstanding institutions, including world-class universities. There are over 56,000 people educated annually in public and private institutions throughout Canada. 
There are also community and specialty colleges as well as post-secondary institutions. Examples are the University of British Columbia, Simon Fraser University, and the Emily Carr Institute of Art & Design.
According to Times Higher Education, Simon Fraser University and the University of British Columbia are the 37th-ranked universities in the world. Vancouver's educational opportunities are another reason to move to Vancouver.
SEE ALSO: 2023 University of British Columbia Schmidt Science Fellowships in Canada [Funded
It is a good place for the family. 
If you are looking for a city where you can peacefully coexist with your friends and family, you have a reason to move to Canada. Vancouver has a charm that binds the family and makes them live peaceful lives.
If you're searching for a fun family day out, Vancouver provides a wide range of lovely parks where you can explore and have a nice day with your family. 
Breathtaking real estate 
Vancouver housing is spectacular. The architectural designs of residences in Vancouver are unparalleled; whether you're looking for a house or a condominium, you have it all in Vancouver. 
Many of the residences in Vancouver have stunning views of the ocean and the mountains; this scenery is astonishing. 
People 
Talking about the residents who make up Vancouver, this city has some of the friendliest inhabitants you will ever meet. There is a strong sense of community, and it doesn't take long to fit in with any area in Vancouver. 
Investment 
Vancouver real estate values have been skyrocketing in recent years, and there are no signs that this trend will reverse. Vancouver is a well-liked place for real estate investment because of the city's robust rental market. 
Recreation 
There are a ton of recreational centers and activities available in Vancouver. Few sites in the world can display various pursuits. One of the elements that add to the year-round recreation options is the beautiful weather. 
Reasons to Move to Vancouver: Things you should know
We have listed the top 9 reasons to move to Vancouver, Canada, in 2022. You must have seen and read the reasons to move to Vancouver, but we would also like you to reflect on the things you should know if you are planning on moving. Living in Vancouver has its share of benefits and drawbacks, much like living in practically any other Canadian city. 
Moving to Vancouver is a decision you should make with time, and it would be beneficial to conduct as much research as possible. Here are the things you should know when you decide to move to Canada.
You might need help finding housing. 
As much as there are exceptional reasons to move to Vancouver, housing issues also come up. Vancouver has some of the lowest rental vacancy rates in Canada but has also seen increased property costs. Be prepared to conduct your due diligence when looking for a suitable rental. A brilliant place to start is searching Craigslist and walking through neighborhoods looking for vacancy signs. 
READ MORE: Apply for Canadian Government Visa Sponsorship Jobs 2023| Hurry
Exceptional methods of transportation 
Neighborhood prevalence is very walkable, and the SeaBus and SkyTrain fast transit lines are part of the local transport network. You possess a driver's license. You can Join car-sharing programs like EVO. If you want to immerse yourself in the culture, buy a bicycle or join the Mobi bike-sharing program.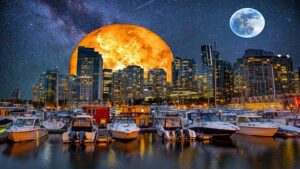 Residents move fast despite the rain. 
Vancouver is a damp but delightful area with an average annual rainfall of 44 inches. Remember to buy boots and an umbrella for October through April. 
Know the Downtown Eastside 
The "poorest postal code in Canada" has a reputation for drug abuse, mental disease, and poverty. If these interactions intimidate you, avoid the area or bring a companion along until you feel confident traversing it alone. 
A healthy Lifestyle is a way of life in Vancouver. 
A good reason to move to Vancouver, Canada, is to participate in a healthy lifestyle. Vancouver residents maintain proper diets, enjoy physical activity, and keep their behinds looking good in yoga pants. After that, refuel at one of the area's many vegan or vegetarian restaurants. Sounds sweet, right? Healthy lifestyle all the way!
What salary do I need to live in Vancouver?
The average salary that is needed monthly to live in Vancouver, according to Numbeo, is almost $60,000. As an individual, this would likely let you live comfortably in Vancouver. 
As Numbeo proposes, individuals can expect their monthly costs to be $1,305.66 per month before rent. For reference, one-bedroom apartments in downtown Vancouver cost $2,346.12 per month on average.
READ ALSO: Highest-paying Canadian Jobs: Amazing Guide 2022
Final words: Reasons to move to Vancouver 
Reasons to Move to Vancouver: Living in Vancouver allows you to spend less on entertainment and recreation because it is surrounded by lovely scenery. The cost of living in Vancouver can be pretty high, much like the cost of real estate, but there are many thrift shops where you can get bargains on furniture, clothing, and other necessities. 
A public transportation ticket cost is typically around $3, and Vancouver has excellent infrastructure for both buses and bicycles. When possible, use public transportation. A typical coffee in a neighborhood café costs about $4, and a three-course meal for two at a mid-range restaurant can run about $75.
Reasons to move to Vancouver: FAQ
In Vancouver, do foreigners purchase real estate or rent apartments? 
When foreigners first move to Vancouver, most decide to rent an apartment rather than think of owning a home because real estate is more expensive there than in most of the rest of Canada. If you are searching for a house, you can use the local newspaper and online listings. 
You should avoid going through house agents because it will increase the cost. Renting a one-bedroom apartment in Vancouver's downtown will cost you about $2,000 monthly. Be prepared to pay close to $12,000 per square meter if you purchase real estate in Vancouver. 
Foreigners have also devised methods to reduce their living expenses and rent costs. Foreigners in Vancouver share housing.
What are the ways to immigrate to Vancouver?
You can immigrate to Vancouver through Skilled Federal Workers' Express Entry, a Study in British Columbia, and the Provincial Nominee Program.
Federal Skilled Worker Express Entry (FSW) 
The most well-liked immigration route for skilled professionals in Canada is Express Entry. Qualified applicants can get permanent residency in Canada in as little as six months. People with permanent residency can live and work anywhere in the country. 
One of three immigration programs run by the Express Entry system is the Federal Skilled Worker (FSW) program. FSW is well-liked because it doesn't require applicants to have any prior employment or educational experience in Canada. Anyone from anywhere in the world is welcome to apply. 
FSW could be a fantastic alternative for you to move to Vancouver if you are a young, skilled worker with a high level of education and strong English or French language ability.
Studying in British Columbia 
Studying in Canada can be an excellent step for people who aren't quite competitive enough through Express Entry to increase their chances of getting a Vancouver immigration visa. 
In addition to increasing your Express Entry score, completing a postsecondary degree in British Columbia may also qualify you for the British Columbia Provincial Nominee Program (BC PNP). 
Provincial Nominee Program: British Columbia
A group of immigration streams known as the British Columbia Provincial Nominee Program (BC PNP) enables BC to nominate foreign employees for permanent Canadian immigration. 
The BC PNP has two main categories: one for workers with the talents the province needs and one for business owners with the credentials and capital to launch a venture there. 
Candidates must have a job offer from a BC business or have finished a graduate degree at a BC university to be eligible for the PNP programs aimed at employees. 
If you can prove that you have a job offer from a BC business and meet the other program requirements, BC will help you apply for a work permit. You can work in the province while Canada reviews your application for permanent residency if you have a work permit.
Is Moving to Vancouver as an Expat Difficult? 
Aside from the requirements for obtaining employment and residency permits in Canada, moving can be challenging for foreign nationals unfamiliar with the area. Finding a home in a city with a housing crisis is tricky. 
Many foreigners opt not to relocate to the congested and pricey city of Vancouver, choosing a larger and more affordable house in nearby areas like Burnaby and Surrey.
READ MORE: 27 Reasons to Move to Canada in 2022