Social Work Jobs in Canada
Social work jobs in Canada: If you are interested in working social work jobs in Canada, then we are pleased to let you know that it is one of the most in-demand jobs in Canada. Social workers have the Canadian National Occupational Classification (NOC) code 4152. 
You could use this article as an overview of the job prospects in this field, so you can be aware of all you need to know, including the cities for social work jobs in Canada and their earnings. 
Most of the time, social workers are hired by social service agencies, school boards, hospitals, social welfare groups, and prisons. They may also work in private practice. One of the problems the Canadian job market is having right now is that there needs to be more qualified workers. 
This means that because they have more open opportunities than others, in-demand jobs are those that require qualified individuals. If you are a licensed social worker wishing to practice in Canada, you are fortunate because Canada is highly in demand for your services. 
The provinces below are the best places in Canada to look for a job in social work if you want to increase your chances of being accepted as an immigrant. 
Social work jobs in Canada are in demand, but the needs vary from region to region. The routes below are the best way to immigrate to Canada for social work jobs.
SEE ALSO: Visa Sponsorship Jobs in Canada for 2022/2023 
Social work jobs in Canada: The Express Entry system
The Express Entry system oversees three federal economic immigration categories. It's a beautiful way for you to immigrate to Canada as a social worker. The Canadian Experience Class, the Federal Skilled Trades Program, and the Federal Skilled Workers Program. 
If your application for Express Entry is accepted, you can move to Canada and live there permanently. This is done by putting your application in a pool with other qualified candidates. 
You will then be given a Comprehensive Ranking System (CRS) score, which will tell you where you stand in the pool. You must achieve or surpass the particular CRS cut-off score to be eligible. 
If you are chosen to apply for permanent residency in Canada (ITA), you will get an Invitation to Apply. 
Advantages of the Express Entry program 
It is possible to immigrate to Canada with or without a job offer. You'll get CRS points if you have a degree in social work. If you don't get in the first time, you'll stay in the Express Entry pool. 
Your application can be processed in as little as six months, making it one of the fastest ways to move to Canada.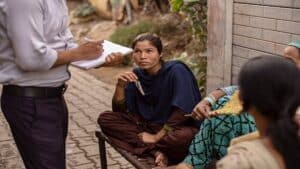 Social work jobs in Canada: Provincial Nominees Program
Under the Provincial Nominee Program (PNP), a deal has been made that lets local provinces put forward qualified economic immigrants who want to work and stay in a particular province. 
To improve your chances of being chosen by a province, it's best to apply where your skills are needed. The greater your prospects, the more in demand they are. To improve your chances of being nominated in this case, look at the finest provinces in Canada to apply for social work positions. 
READ ALSO: Top 35 Nursing Colleges in Canada for International Students
Social work jobs in Canada: How to apply 
There are job openings for people with all skills, but the need for more skilled workers is likely the most noticeable. This is especially true for social work jobs in Canada. The moment may be right for you to move to Canada as a social worker if you are qualified in this field and are looking for new chances. 
According to recent reports, social workers in Canada are under a lot of stress and must work overtime and extra hours to keep up with the massive workload. Social workers at the Department of Children, Seniors, and Social Development feel this (CSSD). 
The first step is getting accepted by the province to which you have applied. This can go pretty quickly because it takes between four and nine weeks. 
Due to security, police, and medical checks, the second stage might take a little longer. Depending on your application, this could take much longer—roughly six to eight months. You can request a nomination in one of two ways below.
Process for Direct Applications 
If you choose to use this application method, you must send the form directly to the province where you want to apply. Delivery of the paper application must be made by mail or courier. The wait time for your results could be between 15 and 19 months. 
Process for Applying for Express Entry 
You have two choices if you use the Express Entry method. As follows: 
Expression of Interest
You can let the province know you are interested in it through your Express Entry profile. The province will put you forward if you have the necessary qualifications and experience. Remember that picking a province with a demand for social workers is crucial. 
Use the Provincial Nominee Express Entry Stream to submit your application. 
The Express Entry system has many benefits since the application process will only take more than six to eight months. 
Social workers' job role
Providing counselling, treatment, and referrals to other helpful social services to help individuals, couples, families, groups, communities, and organisations develop the skills and resources needed to improve social functioning. 
Social workers also deal with racism, poverty, and unemployment in addressing these issues. They might work for hospitals, school boards, social service agencies, child welfare organisations, incarceration facilities, community organisations, employee assistance programs, Aboriginal band councils, and private practices. 
Principal Responsibilities of the social worker
Social workers have one-on-one, family, or group interviews with clients; social workers can better understand their needs and figure out what services they need. 

They counsel clients and offer therapy to help them learn how to handle and address their social and personal problems. 

They make plans for clients and send them to organisations that can help them with money, legal issues, housing, medical care, etc. 

Investigate allegations of child abuse or neglect, and take legal protective action when required. 

Develop prevention and intervention programs to meet the community's needs, fight for solutions to problems that directly affect client groups, and speak up for client groups in the community as their advocates. 

Create social policy laws or provide legislative advice, carry out social research, and support community development 

Offer conciliation services and psychosocial evaluations 

Analyse the success of the social and counselling programs. 

The counsellor may teach the public about counselling services, problems, and solutions or talk to experts or groups about these things.

They may be in charge of another social worker. 

Social workers can specialise in various fields, including gerontology, addictions, family services, prisons, child welfare, and family services.
In Canada, a social worker makes an average salary of $70,144. It varies depending on the company and the number of years of experience. Listed below are the salaries of social workers in Canada based on the region.
Alberta $41,589
British Columbia $58,497
Manitoba $44,321
New Brunswick $65,756
Newfoundland $67,803
Northwest Territories $48,484
Nova Scotia $64,981
Nunavut $72,280
Ontario $45,858
Prince Edward Island $67,754
Quebec $40,858
Saskatchewan $39,773
Yukon $37,440
READ ALSO: Available Canadian Government jobs in 2023| work in Canada
How to Enter Canada as a Refugee Social worker 
You can enter Canada using more than 100 different immigration schemes and visas. If you look into as many options as you can, you'll be able to find the one that meets your professional and personal needs best. Below are various options. 
An Employment Offer 
Having a legitimate job offer makes it simpler to immigrate to Canada because getting a job raises your CRS rating. 
Factors That Allow An Employment Offer To Be Accepted Through Express Entry 
The position must be permanent and full-time. 

The position would need to be open for at least a year. 

The National Occupations Classifications require that the position is at a skilled level. 

The employment offer must be made in writing. It should give a detailed description of what you will be doing at work and how much you will be paid. It ought to also contain the following: 
You are expected to have gross and net salaries 

What will be subtracted precisely 

information about your obligations 

The employment policies of the company.
Other Careers in Canada for Social Workers 
Social, community, and correctional service managers (NOC Code 0423). 

Counsellors in education (NOC Code 4033) 

Family, marital, and other related counselling (NOC Code 4153)

Social and community service providers: (NOC Code 4212)
Social Work Jobs in Canada: Final Thoughts
An eligible job offer (LMIA) should usually come with a labour market impact assessment (LMIA). Service Canada/Employment and Social Development Canada must get an application from your employer for this to happen. 
They must give you a copy of the application and your legitimate job offer if it is approved and they receive a positive LMIA. 
It's essential to keep in mind that your company might not need an LMIA to back up your job offer. Also, keep in mind that a work permit by itself is not regarded as a job offer. Include the LMIA number when you set up your Express Entry profile to show you have a real job offer. 
In addition, the conditions in Newfoundland and Labrador, which have been identified as the region with the most social worker openings, are reportedly so severe that social workers are being flown in to ensure service delivery is met.
Provinces like the ones listed below are in critical need of social workers.
Alberta Manitoba 

New Brunswick

Newfoundland Ontario 

Island of Prince Edward 

Saskatchewan 
Social work jobs in Canada: FAQs
Where Can You Find Social Workers in Canada? 
As a social worker, you can work in various settings, including healthcare facilities, jails, family courts, mental health facilities, schools, social welfare and housing departments, and hospitals. 
How much money can I make in Canada as a social worker? 
Most of these job positions vary based on the region: Experience level and skill level. As a seasoned social worker, you may anticipate making anything from $76,000 to just over $95,000 a year. 
Which other programs am I eligible to apply for? 
There are different routes you could take as immigrants to Canada. The Atlantic Immigration Program and the Rural and Northern Immigration Pilot are two other options you might wish to look into.