Visa Sponsorship Jobs In Australia – Steps to increase your chances
Are you a foreigner interested in visa sponsorship jobs in Australia? Then read this guide for all you need to know about finding a visa-sponsored job in Australia and the companies available to sponsor visas.
Firstly, let's talk about how to find visa sponsorship jobs in Australia. 
Finding visa sponsorship jobs in Australia 
Are you curious about how to find visa sponsorship jobs in Australia? Finding visa sponsorship jobs has never been easy, but it's worth the stress at the end of the day. 
People worldwide ask questions like, how can I find a sponsored job in Australia?
For most people, the most challenging part of migrating to Australia is finding an Australian employer willing to sponsor them.
This process is even more difficult, as many sponsored jobs are not posted on job search websites or or newspaper advertisements. Here are the eight most important steps in increasing your chances of finding a sponsored job in Australia.
1. Make inquiries about sponsored visa opportunities. 
Employers in Australia who are looking to sponsor an employee from abroad frequently steer clear of using print or online job search engines to advertise the position. This is because hiring someone with the appropriate skill set is always much simpler for the company here in Australia. 
However, finding the right person in Australia for many industries can be challenging, which encourages businesses to consider the possibility of sponsoring someone from abroad. 
Recent modifications to the 457 visa program affect how employers can sponsor foreign workers. The Temporary Skill Shortage Visa, also known as the 482 Visa, replaced the 457 Visa Scheme on March 18, 2018. (TSS). 
Depending on your occupation, visa stream, and circumstances, this new visa enables you to work in a skilled position for one to four years at a time in Australia. 
You must have two years of work experience in the same or a closely related field as the occupation for which you will be sponsored in order to be eligible for any stream of this visa. This change brought about by the new visa may cause you to postpone your plans to work in Australia until you can fulfill the requirement for work experience. 
According to the demands of the Australian market, occupations are added to and removed from the lists of permitted occupations for this visa on a regular basis. 
We advise checking the Short-term Skilled Occupation List (STSOL), Medium and Long-term Strategic Skills List (MLTSSL), or Regional Occupation List to make sure your occupation is still open for business (ROL). When looking for a TSS visa, you can access the occupation lists on the Department of Home Affairs website. 
Depending on your skill set, you might also be qualified for the Regional Migration Sponsorship Scheme (subclass 187 visa) or the Employer Nomination Scheme (subclass 186 visa), which will let you live permanently in Australia. 
Although you may need to complete a skills assessment in the nominated occupation to demonstrate that you have the necessary skills for the job you are being sponsored for, among many other requirements, you must have three years of relevant work experience to be eligible for these visas. 
By searching for the desired visa type on the Department of Home Affairs website, you can learn more about the prerequisites for these visas. 
Due to recent changes, you must start working in the industry you want to be sponsored in as soon as you can. This way, when the time comes for you to look for sponsorship or begin approaching businesses in Australia, you will already have the necessary work experience. 
It is also crucial to remember that before applying to sponsor someone from abroad to fill the position, employers who want to sponsor foreign workers must provide proof that the position has been advertised locally. 
As a result, it is less likely that the position will be advertised as a sponsored job in Australia when you use search engines like Seek.com. A recruitment agency is also unlikely to be used by Australian employers to find foreign workers. You will be wasting your time unless the recruitment agency clarifies in their advertisement that the Australian employer will sponsor the qualified applicant. 
Given that the costs of sponsorship can be prohibitive for smaller businesses, we advise looking into sponsorship opportunities with major Australian corporations. Don't completely rule out small businesses, though; some are still willing to sponsor the right applicant. 
You might also be successful in seeking out sponsorship opportunities by contacting the businesses directly. A useful resource for locating Australian businesses is the Yahoo Companies Directory. Send your resume or CV to the businesses that you are interested in and that operate in the industries in which you have experience, and ask if they have any sponsored job openings. 
As an alternative, many businesses also have a "Careers" section on their websites where you can look for open positions and upload your resume to the database of the business. 
If the position you're interested in doesn't have any openings right now, you can frequently set up an alert to notify you when one does. When a position does open up, the business will be able to search for candidates and contact you if you submit your resume and cover letter to the database.
2. Global companies 
Finding international companies with offices in both your home country and Australia is a smart move if you want to gain the necessary work experience there and increase your chances of being sponsored to come to Australia. 
These large corporations frequently provide their employees with transfer opportunities. Unfortunately, this might require you to work longer in your home country before a job opening in Australia presents itself. 
However, if it means you can immigrate to Australia via that business, it would be worthwhile in the long run. If you've worked for a multinational corporation, it will also look impressive on your resume or CV. 
3. Keep a record 
Make a list of all the Australian businesses you are interested in to stay organized. We advise you to speak with the manager of the division you want to work in or else the human resources division. Find out if they can sponsor a foreign national with the required skill set. 
Finding out how frequently they remove CVs, resumes, and application materials from their database system are also helpful. 
You should make sure to follow up on your applications every three months because many businesses only keep these documents for 3 to 6 months. Keep track of the dates you apply for jobs and get in touch with the employer to stay on top of your Australian job applications to make this process simple. 
4. Travel to Australia 
Plan a trip to Australia so you can meet with every employer on your list after you spend some time speaking with businesses and submitting applications for various jobs. 
Even if you can't schedule appointments with all of the employers, you should still make a visit to the business, drop off your updated resume, and try to speak with the manager of the department you want to work for or a Human Resources Manager. 
For your chance at sponsorship, making these connections while you are in Australia is crucial. People are more likely to consider sponsoring you if you interact with them personally than if you haven't already met them. At Results Migration, we can assist you with the entire tourist visa application process if you need one for Australia. Call us right away for more details! 
5. Volunteer/Work experience 
We advise you to try to arrange some volunteer work with Australian organizations once you arrive in Australia if you are able to. 
The organizations that accept volunteers the most frequently are charitable and non-profit ones. Try to approach them before you come to Australia, so you can ensure you have time while in Australia to engage in this work. 
It is a smart idea to make sure you volunteer in your field of expertise because Australian employers will probably view your experience working in Australia favorably if it is relevant to the positions you will be applying for. 
Even though the work is volunteer, this will still be the case. A comprehensive list of Australian not-for-profit and charitable organizations called "Pro Bono Australia" is available for quick searches by location and work category. You should start your search for organizations to approach for volunteer work here. 
6. Use your network wisely. 
Making friends in the right circles and putting yourself out there can be done using social media, networking websites, and industry groups. To connect with people in Australia, use both your own and other people's networks. 
LinkedIn is a fantastic resource for business networking, and it will help Australian employers find you. Building your own network will also benefit from joining groups that are related to your industry or Australia on websites like Facebook. 
Your chances of finding an Australian employer willing to sponsor you will increase the more you advertise yourself on these platforms. 
Your exposure to more employers and chances of getting a sponsored job will increase by using the people in your network and the people that they have in their networks. 
Make sure to inform everyone of your search for sponsored employment in Australia and ask them to contact anyone they may know who might be able to assist you. Make sure you are networking with the appropriate people who will contribute to your success. 
Make sure to connect with as many Australians as you can on these platforms, especially if they are employed in a field that interests you. 
7. Study in Australia 
Have you considered taking any relevant courses or continuing your education in Australia? You typically have a certain number of hours you can work each week if you are qualified to apply for a student visa to study in Australia. 
This is a fantastic way to network and get hired in the field you are interested in. After finishing your studies, you might be able to change your visa status so that you can remain in Australia longer and look for sponsored employment. 
Being in the nation already has its benefits because you are available for job interviews and can establish personal relationships with Australian employers. 
Call Results Migration right away if you'd like to talk about your options for studying in Australia or need help with your student visa application. 
8. Self-marketing for success 
How you market yourself is one of the key success factors. Make sure your marketing materials are competitive in the Australian job market by conducting research. 
To do this, make sure your resume/CV is current and in the right format for the job you're applying for. Make sure your cover letter has a strong impact and is written so the Australian employer will want to review your resume. 
If you are serious about finding an Australian sponsor, you must set aside enough time to update your marketing materials. This will improve your chances of finding an Australian sponsor and ensure your success. 
Apply for the Australian Visa Sponsorship Jobs in 2023
According to information from the Australian Government. Australia's agricultural industry is currently experiencing a labor shortage. In 2023, they might put out at least 180,000 Visa Sponsorship Jobs and possibly even 200,000. 
According to the Australian Government's announcement, they might select 100,000 immigrants for the years 2023–2024. This is a good opportunity to live and work in Australia.
SEE ALSO: Electrical Engineer Jobs in Canada For Foreigners In 2023
Details of the Australian Visa Sponsorship Jobs in 2023 – Unskilled
The country recruiting: Australia

The Trade sector: Agriculture, Horticulture, Poultry, Farming, Agriculture, Choosing fruit and Greens or Flowers, Animal Care, Dairy Farming

The job type: it is a Farm job 

No excessive information is needed.

There is no restriction when it comes to age.

It is a visa Sponsored job

You have to relocate for this job role. 

Lodging is available

The wage is $59,179 monthly, and you can get $30.35 if you work hourly. 
Scope of Farming Jobs in Australia
The most popular and historically high-demand skills in Australia are those related to farming, such as fruit picking, dairy farming, and all other types of framing-related jobs. Many job candidates from around the world relocate to Australia. 
Why Does Australia Need Foreign Workers? 
Australian authorities have given farmers' owners permission to hire foreign workers if Australian citizens aren't already employed in those positions, and there are openings. This position includes assistance with relocation, lodging, and visa sponsorship. These jobs are primarily located in rural areas, far from the city's center.
Advantages
You don't need to be excessively educated.

It is appropriate for unskilled and inexperienced employees with little or no skill or experience at all.

You can get a lodge or assist in getting one. 

You get a relocation assistant. 

You will get medical insurance for the first three months if there is a need. 

It is a Visa Sponsorship job.

You will get monetary assistance from the Government of Australia.

Relocation assistance would be provided by the relevant authorities, who would assist visa holders with the right to work in Australia as well as people moving to rural areas to take up agricultural work.
Listing of Farming Jobs in Australia in 2023
 

WorkForce Australia
The official website of the Australian Government for searching and monitoring job openings is called Workforce Australia. On this website, you can look for any kind of farm work. Let's find the right one for you.
To apply for workforce Australia, go to this website: 

https://www.workforceaustralia.gov.au/

 

After clicking the link, you have to write in the search bar Visa Sponsorship, Farm, Fruit, or any other keyword that relates to what you want to search for. 

After typing the keyword, you will get a record of visa-sponsored farm jobs that have to do with your search throughout Australia. 
SEEK Australia Jobs
You can find all Australian jobs with sponsorship on Search, the top job site in Australia. Use SEEK, which is very simple to use, and follow the steps below to look for jobs in Australia with sponsorship. It will keep track of all job types, fields, company names, occupations, and job descriptions. The first step is to find work.
To find a Job on the SEEK Australia Website: First Go to 

https://www.seek.com.au/

, which is the SEEK website. 

There, you will find more than 2,341 jobs recorded. 

You need to write in the search bar Visa Sponsorship, Farm, Fruit, or any other keyword that relates to what you want to search for. 

Now, it ought to keep track of all Australian jobs that support visa sponsorship.
WikiFarms Australia
You can find the farm job you want by using the WikiFarms Australia app. The quickest way to find farm work is to get in touch with the farmers right away or to gather them on the farm. 
It's another practical tool you should take into account if you're looking for a Fruit Picking Job option. Essentially, it is a map that shows you the contact information for about 2000 farmers across Australia.
Agri Labour Australia
Since 2009, Agri Labour Australia's knowledgeable recruiters have been finding trustworthy candidates. In Australia, people are hired for a range of farm and agriculture positions. 
You can learn more about the Australian farm jobs we recruit for in the following places:
Fruit Picking & Horticulture Jobs in Australia
Many people are utilizing bonuses from Fruit Picking Jobs in Australia. There are numerous fruit varieties (apples, grapes, plums, peaches, apricots, mangoes, orchard fruits, cotton, onions and asparagus, and extra). Sometimes our customers ask for fruit picker jobs. 
Visit this page to apply for fruit-picking jobs with Australian companies.
Fruit picking Jobs by Australian Firms
1. Fruit picking Jobs in Victoria 
2. Fruit picking Jobs in New South Wales 
3. Fruit picking Jobs in Queensland  
4. Fruit picking Jobs in Western Australia 
5. Fruit picking Jobs in South Australia 
6. Fruit picking Jobs in Tasmania
7. Fruit picking Jobs in Northern Territory
Dairy Farm Jobs in Australia
Candidates looking for farm jobs in Australia frequently and happily inquire about dairy farm jobs in Australia. They have a lot of clients in this building who turn to us for trustworthy employees. These are offered as Popular Jobs in Australia.
To Apply for Dairy Farm Jobs: Visit 

Here
To apply for visa sponsorship jobs in Australia on Linkedin click here.
Apply for visa sponsorship jobs in Australia on Indeed click here.
Apply for visa sponsorship jobs in Australia on Glassdoor click here.
FAQs
Who provides sponsorship for visas to Australia? 
You, the employer, are responsible for paying all fees related to sponsoring and recommending an applicant (i.e., the sponsorship and nomination stage). 
This includes, for instance, the DOHA fees as well as expenses related to hiring new employees and paying professional fees. These are not permitted to be given to the applicant.
READ MORE: Top Guide On Jobs in Yukon Canada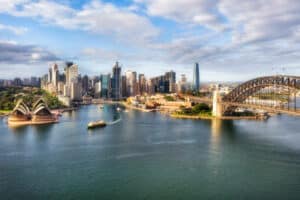 What job is most in demand in Australia?
Technical Program Manager

Clinical Exercise Physiologist 

Site Reliability Engineer

Sales Development Representative

Platform Engineer

Growth Specialist

Claims Adjuster

Machine Learning Engineer

Sustainability Manager

Enterprise Account Executive

Cyber Security Analyst

Crime Analyst

Data Engineer

Job Coach

Cloud Engineer

Customer Success Manager

Client Associate

Business Development Representative

Health Assistant

Service Desk Engineer

Delivery Consultant

Cyber Security Engineer

Finance Associate

Product Designer

Technology Project Manager
Can you obtain a visa on your own? 
It is possible to obtain a work visa in the US even without sponsorship from a company. The EB-1, O-1, and EB-5 visa types are the three types of visas that permit this. One of these visas can be obtained with the assistance of an immigration lawyer.
Conclusion 
Keep in mind that you should start this procedure as soon as you can because recent changes to Australian-sponsored work visas now require longer periods of work experience in the profession to qualify. 
Don't just rely on job search engines and advertisements for employment; instead, do your homework and access the hidden Australian job market. 
Your success depends on your ability to manage your applications, stay in touch with potential employers on a regular basis, develop your networks, and execute high-impact self-marketing. 
Plan your trip to Australia and consider whether you might be able to volunteer or continue your studies while you're there. 
Work consistently and persistently toward your long-term objective of finding employment in Australia. You can be sure that by doing these things, your chances of getting a sponsored job in Australia will go up. 
SEE MORE: Caregiver Jobs in Canada – Ultimate Guide In 2023
Article Source
Result migration.com