EB 3 Visa – All you need to know
Have you thought of migrating, and you've been considering relocating through EB 3 visa? Here is all you need to know concerning the visa. 
There are various visas available that let you enter the US and work. You may be qualified for an employment-based visa based on your education, experience, and other factors. One of the types of visa might be eligible for an EB-3 visa.
What is an EB3 visa?
The third preference for a US employment-based immigrant visa is called EB3. Foreign professionals can obtain one of the five employment-based green card categories that allow them to live and work permanently in the US. 
It is intended for three different applicant types: professionals, unskilled workers, and other workers. If you fulfill the criteria for one of the three categories, you might be eligible for the EB3 visa. Each of the three categories is described by the United States Citizenship and Immigration Services (USCIS) as follows: 
A skilled worker has at least two years of experience in their field. 
Professional: employees with advanced degrees need a license to work in their field. 
Unskilled or other workers: individuals capable of performing tasks for which qualified individuals are not readily available.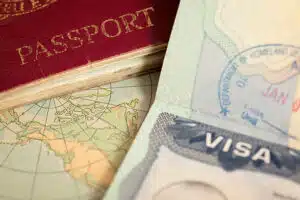 What Persons Qualify for an EB-3 Visa? 
To be eligible, you must fit into one of three categories—a professional, unskilled, or skilled worker. The three categories are explained in the following. 
Skilled Worker. You must demonstrate at least two years of relevant work experience or education (some post-secondary education may qualify as training). You must be doing work for which there are no qualified candidates in the US. A permanent, full-time job offer and a labor certification are necessary. 
Professional. You must demonstrate that you possess a US bachelor's degree or a degree of equal standing in the relevant field. You must be doing work for which there are no qualified candidates in the US. It won't count if you have work experience or a degree but not a bachelor's. A permanent, full-time job offer and a labor certification are necessary. 
Unskilled Employee. You must be able to perform unskilled work that is permanent (or seasonal) and for which there are no qualified workers in the US. A permanent, full-time job offer and a labor certification are necessary.
A labor certification and a full-time or permanent job offer from a US employer are prerequisites for all three EB3 visa categories. The US Department of Labor must approve the labor certification. 
PERM Labor Certification
To obtain your labor certification, your employer must submit Form ETA-9089 to the Department of Labor. According to the form, your employer is willing to hire you, and no US workers are qualified or available to fill your position. 
The Department of Labor website has the form ETA-9089 available online. It can be finished digitally. Additionally, your employer may complete and mail this form. They must present supporting documentation, including proof of residency and financial and payroll records. 
There is no application fee when submitting Form ETA-9089 for labor certification. The processing of the form takes roughly 6 to 9 months. This indicates that your employer must submit the form as soon as possible. Your labor certification is granted if your application is accepted. The EB3 Visa application can then be made.
How Do I Submit a Request for an EB-3 Visa? 
An immigration petition, Form I-140, must be submitted by your employer. The employer must demonstrate to the USCIS office that they will have the financial wherewithal to pay you the offered wage. 
They must continue paying you that salary until you can obtain permanent resident status. The employer must finish the following to petition on your behalf. 
Obtain a Permanent Labor Certification application that the US Department of Labor has approved (If required for the specific visa category.) 

Complete the I-140 form. 

Submit the Filing Fee.

Provide proof. 

Form I-140 should be signed and filed. 
The petition will be processed after the USCIS receives Form I-140, and the employer will then receive notification that it was received. A decision will also be communicated to the employer.
Form I-140 
The Immigrant Petition for Alien Worker Form, or I-140, is used for this purpose. It is divided into various sections to gather the necessary data about the beneficiary and the employer (employee). Your employer is required to disclose details about their business or themselves. Names and company names, SSNs or IRS tax IDs, and mailing addresses are included. 
The necessary information about you, the employee or beneficiary, must also be provided by your employer. This includes name, country of origin, and birthdate. Form I-140 will be mailed in. 
You'll receive a notification from USCIS after submission stating that they have received your application. If your employer wants accelerated processing, they can also submit Form I-140 with Form I-907.
Form I-907 
With the optional service of Form I-907, Request for Premium Processing, petitioners can get a response to their requests within 15 days. Processing the EB3 visa application takes a long time. 
Fill out Form I-907 and submit it on behalf of your employer if you want the application to be processed more quickly. Only if your employer passes an on-site inspection is premium processing allowed. Additionally, there is an extra application fee.
Application Fees for EB3 
Form I-140 requires a filing fee of $700, while Form I-907 requires a $2,500 premium processing fee. These costs must be covered by your employer, who is the petitioner, not by you personally. 
Before submitting the forms, your employer must pay these fees. The supporting documents must contain the payment receipt. Whether your petition is granted or denied, the Form-1907 filing fee is not refundable. 
In addition to the official application fees, other fees are also necessary. If necessary, you can pay for medical exams and vaccinations. There may be additional costs if you require a translator for your visa interview. These additional expenses fluctuate. They differ from one nation to the next.
Documents required 
You must submit the following paperwork with your EB3 visa application. 
An international passport that is valid for at least six months. 

two passport-sized photos that meet the requirements for a US visa 

completed Form I-140 and, if necessary, Form I-907 

Form I-140 and, if necessary, Form I-907 payment receipt 

birth registration 

identification from the government, such as a driver's license 

Labor certification from the US Department of Labor

Employer job offer 

documents proving academic credentials 

tax-payment records 
There may be additional case-specific documents that you must submit. You must also translate and certify any supporting documents that are written in a language other than English. Original copies must be submitted with the translated versions. 
As an alternative, you can show the original documents at the US Embassy when you go in for your interview. Your original petitioning documents will still be sent to the embassy, where you will be interviewed.
How long does it take to process an EB3 visa? 
The processing of the EB3 visa takes a while. Depending on your country of origin, it could take anywhere from one to three years. It might take up to 6 years for some nations with low annual visa caps. As was previously mentioned, the PERM labor certification processing time is between 6 and 9 months. 
If a skilled, professional, or unskilled worker in the US becomes available during this waiting period, your visa application may be turned down. For this reason, if they satisfy the requirement, most employers choose to pay for premium processing services. 
Your EB3 visa will be processed within 15 calendar days if you choose premium processing, which costs $2,500. The clock begins ticking once USCIS receives your Form I-1907. 
When submitting your Form I-1907 application, you must make sure that you include all necessary materials. After the department receives all required application materials, the 15-day period officially begins.
Eligibility Requirements for EB3 Visas 
Here are the requirements for obtaining an EB3 visa for skilled workers: 
Two years of employment and education 

S. baccalaureate degree (or equivalent qualification in the applicant's country of origin) 

Offer of a full-time EB-3 position 

The PERM Labor Certification procedure must be completed for the job in question. 

Necessary Worker certifications 
When unskilled workers submit their visa petitions, they must be mentally and physically capable. If they want to work in the US as an unskilled worker, they must have 2+ years of training or experience in that field. 
Process for EB-3 Labor Certification 
The applicant must complete the PERM Labor Certification procedure and the Prevailing Wage Determination process. 
The employer or employers in question must demonstrate to the DOL and USCIS that they are not hiring foreign nationals merely to reduce costs. Employers must gather all paperwork and records about the hiring procedures at their organizations. 
This is one of the most difficult steps in applying for an EB3 visa. Employers and visa applicants can only get assistance from skilled immigration attorneys during this difficult process. Specialist immigration lawyers from Zavala Texas Law can assist in this situation. 
A medical checkup and vaccinations 
You must have a medical exam before you can go to your interview. Regardless of age, all immigrants to the US must have a medical exam. This demonstrates that you are in good enough health to reside and work in the US. Additionally, you might require some vaccinations. 
An authorized panel doctor will conduct the medical examination. You cannot attend your interview or have your visa approved with a medical certificate from a physician who is not authorized. Typically, a list of panel physicians from various nations is available. The embassy can suggest one to you as well. 
You may present documentation of prior immunizations from any duly accredited physician in your home country. This might involve receiving measles, polio, hepatitis A&B, and influenza vaccination. 
Interview for EB3 Visa 
One of the key requirements for the EB3 application process is a visa interview. The interview takes place at a US embassy or consulate in your country of residence. The interview is similar to others for US visas. The objective is to confirm the validity of the submitted data and documents. 
Your interview date is based on how quickly your visa is processed. Your interview date will be listed on an appointment letter that will likely be sent to you via email. It's crucial to bring all required documentation to your interview. You are not required to use copies of the documents you have already submitted. 
You should go for biometric services prior to your interview. The immigration officer will question you during the interview about yourself. After the interview, if you have submitted all required paperwork and performed well in the interview, your visa application should be approved.
An EB3 visa stamp will appear on your international passport if your visa application is accepted. Additionally, you'll get a sealed packet that you shouldn't open. The packet will be given to a US customs official at your point of entry. 
Traveling prior to your visa's expiration date is crucial. Your family is welcome to immigrate to the US with you if you have an EB3 visa.
Visa refusal for EB3 
For a number of reasons, an EB3 visa application may be rejected. The most frequent ones are fraud and incorrect interpretation of important facts. Some unqualified applicants attempt to apply for visas using forged paperwork and information. This is not advised because it could harm your chances of obtaining a visa in the future. 
If you have a criminal history, your application may also be denied. In your home country or any other foreign country, this includes any records of drug trafficking, armed robbery, or other crimes. 
Additionally, your application might only be allowed if you overstayed your prior visa in the US. If your application is turned down for inconsequential reasons, you may be eligible for a waiver. 
READ MORE: Italy Farm Jobs: How to Work in Italy's Stunning Countryside
Family of Green Card Holders under EB3 
Under the EB3 category, your family members can apply for derivative visas. Spouses and children under the age of 21 who are not married are included. The various types of visas are: 
E34 Visa: for partners of professionals and skilled workers 

spouses of unskilled workers or other workers may apply for the EW4 visa. 

E35 Visa: for children of professionals and skilled workers 

Children of unskilled or other workers may obtain an EW5 visa.
FAQs
Is obtaining an EB3 visa challenging? 
Compared to other employment-based visa categories, like the EB1 and EB2 categories, the EB3 is relatively easy to obtain. Particularly for unskilled workers, it needs to be more closely examined. The extremely long wait time is the only challenge. 
How much time is the EB3 visa valid? 
As a permanent residency visa, the EB3 visa never expires. You are then automatically eligible for a green card, also known as status as a lawful permanent resident. Your green card must be renewed after ten years or if it is damaged, lost, or stolen. 
You can live and work anywhere in the US if you have a green card. Additionally, you are always free to leave and return to the nation without applying for a visa. Alternatively, you can apply for US citizenship after five years as a permanent resident. 
Which of the EB2 and EB3 visas is preferable? 
Which of the two categories is superior depends on the qualifications and experience of each applicant. Permanent visas that result in a green card are the EB2 and EB3 categories. 
So they both have high ratings. The EB2 Visa has more stringent requirements than the EB3 Visa, though. A subcategory of the EB-2 enables candidates to submit their petitions without a job offer from a US employer. The National Interest Waiver is what it is called (NIW).
EB2 Visa: Applicants with "exceptional ability" in their chosen professions or fields of study are eligible for this visa. Those who fall under the EB2 category are seasoned professionals with advanced degrees in sciences, medicine, business, the arts, and other fields. 
They are entitled to an EB2 green card. A permanent residence card for advanced degrees is another name for it. 
EB-3 Visa: To be eligible, EB-3 visa applicants must file petitions based on their employment. The USCIS refers to individuals who can submit an EB-3 green card application as "unskilled workers." 
They are seasoned professionals in jobs that take less than two years to become proficient. Contrast EB3 and H1B carefully because they are entirely different.
SEE ALSO: Top Guide On IT Jobs in Australia in 2023 
What are the differences and Similarities between EB-2 and EB-3?
The EB2 and EB3 visas are entirely different, even though they both result in employment-based green cards that grant permanent resident status in the US. Jobs, procedures, and green card applications for EB2 applicants are all completely distinct from those for EB3 applicants. 
What is an EB3 visa?
Both skilled and unskilled workers can obtain permanent residency in the US through the EB3 visa. The EB3 visa application process is easy. 
Through full-time job offers, US companies can sponsor foreign employees for green cards. These businesses must also go through the DOL's "PERM Labor Certification" procedure. 
Currently, the EB3 visa is assigned to 28.6% of all US green cards offered to foreign workers. That amounts to 40,000+ EB3 visas issued each year. 
There are far fewer requirements for applicants to obtain US EB-3 visas (compared to EB2 visas). However, this also means that many people apply for EB3 visas and that the waitlist for approval is frequently long. 
What Must I Do to Apply for an Eb-3 Visa? 
Labor Certification/PERM. "Program for Electronic Review Management" is what this abbreviates to. Your employer must prove that you are not displacing a US worker from their position. 
This can be done by providing evidence that the employer was unable to fill the position locally (like a newspaper ad in the classified section.) 
Immigration Petition Form I-140. This document, which the employer filed, shows that they can pay your salary. It demonstrates that you are qualified for the position as well. 
I-485 Status Adjustment Application. The third and final step is to apply to become a permanent resident of the US after the first two have been finished. Filling out Form I-485 will allow you to do this. 
How long do those applying for EB 3 visas have to wait? 
When they file their Form I-140 immigrant petitions, they are given an official "priority date." Applicants can change their temporary or non-immigrant visas to green cards or visas for permanent residence once the USCIS posts their priority date in its monthly Visa Bulletin. 
Conclusion
Qualified individuals can obtain permanent residency through the EB3 visa. You ought to now be much better informed about the various facets of the EB3 visa, including its benefits, requirements, application procedure, and other information you might require.
READ ALSO: Best Guide On Teaching jobs In Australia In 2023
References